Morph learns sign language for deaf TV programme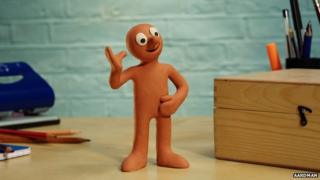 As Morph prepares to be the guest presenter on BBC Two's See Hear, the long-running programme for deaf people, we take a look at how parent firm Aardman came into being thanks to a show for deaf children in the 1970s.
From Wallace & Gromit and Shaun the Sheep, to Chicken Run and Morph, you are likely to be familiar with the work of Aardman Animations.
The Bristol company has become one of the most recognisable animation studios in the world - and is still going from strength to strength, having won a number of awards, including four Oscars.
But Aardman's founders, Peter Lord and David Sproxton, had humble beginnings - and owe a great debt to early BBC programmes made for deaf children.
First broadcast in 1964 and continuing into the 70s, Vision On had been created with deaf children in mind. Pat Keysell presented using sign language and speech, and Tony Hart supplied the art.
Lord and Sproxton were young men experimenting with a stop motion camera and creating simple animations, when they were first asked to contribute ideas.
Their first attempt was a 2D superhero animation called Aardman. He appeared in a series of non-verbal sketches with visual punchlines. The company takes its name from the character which is widely translated from the original Dutch as "goblin".
Lord is in no doubt that his early work making animated sketches for deaf audiences was key to their later success.
"My understanding of animation was formed by the stuff that we did with Vision On, which was absolutely like silent comedy," he says. "It was about performance which you understand without dialogue, which I think is a great thing, a healthy thing, a fun thing."
During the Vision On years, Lord and Sproxton created the Gleebies. These clay stop motion characters with pointed noses and vaguely human forms had the look and feel of what would later become Morph. In 1977, the pair followed Hart to a new children's art programme called Take Hart where the character was born.
The new programme had a broader remit meaning the animators no longer had to tailor their material to deaf children, but kept to the same basic principles.
"The idea was you could turn the sound off and you would still get the programme," Sproxton says. "I guess that's where we cut our teeth effectively doing very visual comedy rather than verbal comedy."
Aardman's stop motion clay animation, or claymation, became a well-recognised style in households around the UK. The company would go on to create many more memorable characters with the studios signature big eyes, toothy grins and visual humour.
Morph remained a regular fixture on television screens throughout the 80s and 90s, and this summer returns in a series of online episodes which were created thanks to the generosity of his fans who backed a crowd-funded campaign on Kickstarter to Bring Back Morph. Just as with Aardman's early work for deaf children, it's purely visual, has no spoken words, and so can be enjoyed by deaf and hearing audiences alike.
When See Hear approached Aardman to see if Morph would be happy to introduce the programme using sign language, we were aware that his ability to sign would be limited as although he has a thumb, his four fingers are joined together as one. We had similar challenges when trying to film an item about Children In Need with Pudsey Bear.
There are only a few signs you can do without fingers, luckily Morph is able to sign "Hello and welcome to See Hear".
Will Morph return as a full time presenter on the programme? Never say never…
See Hear airs at 10.30am on Wednesday 18th June on BBC TWO, and will be on iPlayer soon after that.
The first of the new Morph episodes will be on Morph's YouTube Channel at 17:15 on Friday 4th of - or Morph of - July, which is the exact time of Morph's first ever TV appearance on Take Hart, BBC One, 15 February 1977.
Follow @BBCOuch on Twitter and on Facebook, and listen to our monthly talk show