Ouch disability talk show 110: Being mean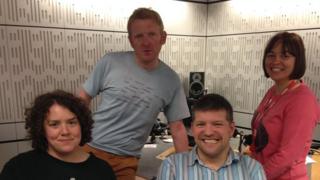 On this month's show: Have you ever got mad with someone trying to help you? Comedian Laurence Clark has - his latest show is all about those moments of instant regret disabled people sometimes experience.
Also: Jess Thom - aka Tourettes Hero - talks about tics and theatre traumas, a blind man with a gun licence and a martial arts expert discuss self-defence for disabled people, and what problems arise when wheelchair users try to use the toilet on planes?
Rob Crossan and Kate Monaghan present.
Your monthly way in to disability news through chat, humour and the little things of life.
How to listen
Show notes
Find out more about this month's guests and discussions with our selection of links.
Comedian with cerebral palsy Laurence Clark's new Edinburgh Show, Moments of Instant Regret, delves into the darker side of disabled people. He has written about bad behaviour for Ouch before. Read how he came to make a US waiter cry.
Ouch travel correspondent Michael Holden mentioned new UK airport rules that say electronic devices have to be charged up before you fly. Find out more.
Carey McWilliams is a hunter, and he was the first totally blind man in the US to be granted a licence to carry a concealed gun for self-protection. Now McWilliams teaches other disabled people about owning weapons.
Jessica Thom has Tourette's syndrome. Her new live show is called Backstage in biscuit Land, named after her most regular verbal tic "biscuit". She blogs about life with Tourettes most days here.
Music this month is by Nick Farmer, who has cerebral palsy. Farmer wrote this song with the help of his brother-in-law Nathan, in an effort to find the woman of his dreams.
For other audio clips from Ouch, go to our Audioboo channel.
Producer: Emma Tracey
Follow @BBCOuch on Twitter and on Facebook, and listen to our monthly talk show