The story of the couple in the 'Deaf and Dumb Wedding' of 1940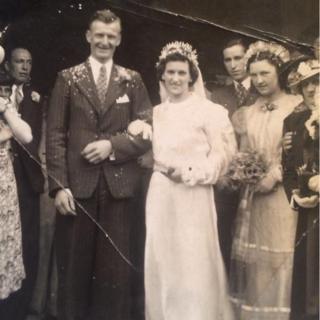 When British Pathé transferred its catalogue to YouTube earlier this year, a long-forgotten film of two deaf people getting married in 1940 was revealed. But who were they?
Beverley in the East Riding of Yorkshire is a picturesque market town, its skyline dominated by the gothic towers of Beverley Minster, where the remains of the town's St John are interred. Given its spectacular appearance, and that John had been adopted by the 19th Century deaf church as the patron saint of deaf people, what better place could there be for two deaf people to marry?
In the summer of 1940, Pathé filmed a marriage between two "deaf and dumb show people" as they are described. After it went online, many deaf people shared it on social media and, curious about such a large wedding with so many signers, speculated as to who the couple were.
In the footage they are both smiling as their family and friends, many from Hull Deaf Club, surround them and fingerspell rapidly to each other. One guest carries a gas mask as the war had just started. It's a beautiful snapshot of a moment in time.
"Their tragic handicap seems quite forgotten in the excitement of the novel occasion," comments the clipped newsreel voice, using words that 75 years later sound more comical than offensive.
The couple were Duncan McKenzie and Nesta Holgate. McKenzie was 34 and came from a family of travelling entertainers - his grandmother, Susannah Mapplebeck was a sword swallower.
He was a widower, a labourer, and true to his roots a conjurer and sleight-of-hand performer.
According to the marriage certificate, Holgate was a 22-year-old spinster and the daughter of a shipyard worker. Both she and McKenzie were deaf.
Pathé films were played in cinemas all over the country, says deaf historian Norma McGilp. They mostly showed events and personal stories, and a deaf wedding would have been a curiosity for viewers at the time. "This was a family gathering where deaf people were getting married and where people signed, which was quite novel," McGilp says.
See Hear decided to investigate the couple further, and, as we delved into their lives, we found a story of happiness and tragedy in equal measure.
Starting with local archives and newspaper reports, we eventually managed to track down McKenzie's great niece Rachel McKenzie. She was already investigating her family tree and helped us find relatives from near and far. We also contacted long lost friends at the Hull Deaf Club, and arranged for them all to return to Beverley Minster.
The reunion event was in July this year and dozens of people turned up. We played the film of McKenzie and Holgate getting married, and projected it onto the altar where they stood in 1940. It was a little like watching the wedding itself.
People shared their memories of the couple during the day. We heard how Duncan was known as Popeye because of his pipe, for performing tricks for the children in the family, and for getting into all sorts of scrapes. He had many different jobs, travelling with fairs and sometimes disappearing for days on end.
We heard how he could communicate with anybody and used to hand out fingerspelling alphabet cards to his hearing relatives.
Nesta was remembered as being loving and kind and always making the family feel welcome. She seems to have been more introverted than her husband, and spent a lot of time with her sister who lived next door.
In 1946, six years after getting married, the couple had a baby boy who they called Peter. Sadly it didn't turn out as they might have wanted. We discovered that the child was taken away by the authorities, and later put up for adoption. Unsurprisingly, it was said to have deeply affected Nesta.
Family members recall Peter as a young child, but no one knows the reason why he was taken away from his parents. Some remember how neighbours often heard him crying and think it's possible that Nesta didn't know when he was distressed because she couldn't hear him. According to people's memories he was taken while Duncan was away with the fair.
Despite these difficulties, Nesta and Duncan's marriage remained strong. Family members brought along photos which showed them growing old and sharing happy times together until Nesta's death in 1998.
It was on a regular trip to Bridlington in 2000 that Duncan met a sad end, aged 94.
He used to take the train out to the coastal town to buy his favourite brand of vodka. On the way back he fell asleep, missed his stop and was awoken by the police. They couldn't communicate with him and didn't know where to send him so he was placed in the Deaf Institute in Sheffield for the night.
The family say Duncan may have been confused, not knowing where he was or believing he might be in prison. He died within a few days under social services care.
The authorities were unable to track down Duncan's next of kin who were thought to be away working with a travelling fair. He was cremated, with no family present at the funeral.
It wasn't until See Hear filmed at Beverley, and checked local records, that we learned the couple were in fact buried together at a plot Nesta had bought before they both passed away. The local funeral director thinks it was Nesta's niece who signed this off - Duncan's family hadn't known his remains had been restored to Nesta's side.
When we visited the grave, it was marked by a simple wooden cross with Duncan's name missing.
See Hear commissioned a local stonemason to create a new memorial stone for the couple which can now be seen by anyone at St Mary's Cemetery in Beverley, close to the Minster.
Looking back, what the couple endured is every deaf person's worst fear: to lose your child to the authorities, and to die alone possibly without knowing where you are.
Duncan and Nesta were baptised in Beverley, married in Beverley, and have found eternal rest together in Beverley.
But there is one mystery left to solve: what happened to Peter McKenzie, the son who was taken from the couple?
See Hear's programme about the deaf couple's wedding airs on 17 December on BBC Two at 10:30.
Follow @BBCOuch on Twitter and on Facebook, and listen to our monthly talk show