Why I came out as a disabled journalist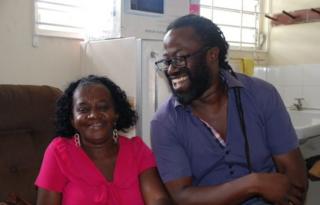 As a journalist, I've run away from gunfire, I've clambered over earthquake rubble and I've even managed to make it up a few red carpets.
But I've kept my disability quiet for so long that even writing this feels as if I'm coming out of the closet - until now I've always been worried about what people might think.
I was born with bilateral talipes - my mum, a nurse, insisted as a child I use the full medical terminology. To the average person in the street that meant nothing, so I'd have to say clubfeet and then show them the scars. Nowadays I never really notice the difference until I see new-born babies with their unblemished little feet which bear no resemblance to my own.
I've learnt to accept the constant aches in my legs and ankles which, I guess, people call "pain management". Thankfully I live in a hot country because my arthritis - an unfortunate side effect of a series of operations to straighten my feet - isn't so bad in the Caribbean sun.
The thing about an unseen disability is that it allows you to hear and experience certain things that people would stifle had the disability been more obvious.
For many here in Jamaica, being born disabled is still a mark of shame - not just for the individual but for the entire family.
I grew up in a Seventh Day Adventist home where I was taught to not only thank God for my daily blessings, but also to thank him for being born in the UK. As a teenager I didn't thank God for that at all, but my parents were certainly deeply thankful.
My dad used to say: "If you were born in Jamaica, you'd have to drag yourself around on a piece of car tyre." To my teenage brain this sounded like punishment from God and I didn't understand what he meant until I moved there.
I've seen "that guy" without treatment or support, the one who has nothing but God to believe in. He's often on home-made crutches, walks on his ankles, and looks like he's in terrible pain.
What has struck me about Jamaica is that not only are disabled people out of sight, they're completely out of mind.
In recent weeks the plight of disabled people - and I hate using that word but it's kind of true in this instance - is finally being heard because of two tragedies.
The first incident was not entirely unexpected.
Marlon King was on his way to his home in Cheshire Village, a community for disabled people in the capital Kingston. There was an electricity pole in the middle of the pavement so he was forced to take his wheelchair onto the road. He was struck by a bus and killed.
There just aren't proper pavements here in Jamaica, and this isn't the first tragic accident involving wheelchair users.
"They talk and make policies as if we don't exist," says Karen Brown, president of the Jamaica Association of Persons with Physical Disabilities, who lived next door to Marlon King."They didn't consult with us when they were building the sidewalk, they didn't ask us can you manage that slope, is it too deep? They don't ask for our input. They treat us as if we're people without a brain, you're a non person."
Brown has brittle bone disease and wasn't allowed to go to school as a child. She was told that her role was to take care of the house and to look after her younger brothers and sisters.
"They see you as a source of shame," she says. "That they've produced a disabled child is bad for their ego."
The other big disability story of recent weeks has been that of a teenage girl who was mentally and physically disabled. She was found chained in a cellar in Windsor, St Ann's Bay. According to reports from the police, her father and stepmother had kept her locked up for months.
So how do disabled people live in Jamaica and is it possible for them to thrive?
Jamaicans are good at banding together and it's not uncommon to see bank account numbers flashed up under segments on TV news about people with ill health so viewers can donate. In terms of benefits, one can access general social programs or if working you can get an exemption from income tax, reduced fares on buses, parking badges and help to start your own business but the level of assistance is lacking if compared with that of a developed country.
Life has become more challenging for 18-year-old Joshua Burgess who, with support from family and friends, is coming to terms with having recently gone blind due to a congenital condition.
"I wouldn't be on Earth if it wasn't for football, cricket or music," he says. "There'd be no point."
Despite being comfortably well off, he and his family struggle to get the help he needs.
"Jamaica is a developing country and just hasn't got the money," his mother Janine says. "He'd love to play blind cricket but the team can't get the sponsorship.
"It touches Jamaicans but what are you going to do without money? There's no Braille in buildings, no access for wheelchair users. There's a lot of compassion, but the infrastructure isn't there to resolve the problems," she says.
Jamaica is one of the most indebted nations in the world, but a change in attitude doesn't require money from the International Monetary Fund.
Look at sport - Jamaica is mad about track and field. When you think of Jamaica's most successful athletes, Usain Bolt instantly comes to mind - after that a long, long list of other champions associated with this small island. The name of Rupert Octavius Morgan, however, isn't one that most people would know - despite his past successes.
Between 1966 and 1981, as a paraplegic athlete Morgan amassed one of the country's biggest medal hauls in both swimming and shot- putt. Today, however, he struggles to make a living. He survives by repairing electric wheelchairs - which is far from a high-demand business here.
When Bolt broke world records, he received national and global recognition. Even though he is independently wealthy due to receiving millions in sponsorship, the government gave him prime land so he could build his dream home. For Morgan, a section of pavement outside his house so he can avoid going on the road in his wheelchair would be enough.
Brown says the Jamaica Association of Persons with Physical Disabilities need their own "Shaggy" - a reference to Mr Boombastic himself. Born in the island's capital, the multi-platinum reggae artist raises hundreds of thousands of US Dollars every year on behalf of Kingston's Bustamante Children's Hospital.
As I walk around the Sir John Golding Rehabilitation Centre in Kingston it's clear that they badly need a champion, too.
Golding came here from the UK in the 1950s to help contain Jamaica's polio epidemic. "He literally treated us like his own kids," says Don Taylor, who was a polio patient at the centre when he was young, and is now the centre's counselling psychologist. And because there were no schools near his home that could cater for him, Taylor also boarded in a hostel in the grounds of the centre so he could be as close to a school that he could.
The facility was an early example of a public-private partnership with the business sector, the University of the West Indies and the Jamaican government providing the funding.
But 60 years later it badly needs help. In-patients have little to do, and are lacking assistance such as vocational training.
There are plans to raise chickens to sell, or to renovate a now disused woodworking shop, but the money isn't there for even these basic things. The occupational therapist left nearly four years ago.
Vincent Riley, who is in charge of several medical centres in and around Kingston, including the Sir John Golding Rehabilitation Centre, says they offer services for patients with cerebral palsy, stroke, spinal cord injury, physiotherapy, and psychologist help. They are working towards offering occupational therapy at the facility once again, possibly in conjunction with the nearby University Hospital.
Riley says that having a celebrity or any other kind of benefactor is quite common abroad and would be good to help put the spotlight on the centre and what it does offer.
As I watch a stray dog lazily make its way through the grounds, I think that maybe my parents were right and that as a person with a disability I was very lucky to be raised in the UK.
Follow @BBCOuch on Twitter and on Facebook, and listen to our monthly talk show