Queen's Baton Relay: Reflections from Gold Coast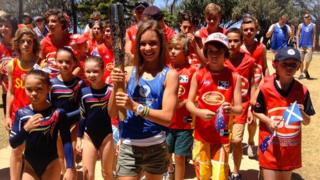 Next year the Commonwealth Games will be held in Glasgow, but Australia already has its sights set on 2018 when it will host the games in the Queensland city of Gold Coast.
As part of the build up for next year's competition in Scotland, some of Australia's leading athletes and some potential stars of the future welcomed the Queen's Baton Relay to the city.
In terms of their sporting pedigree, Queenslanders have no need to introduce themselves.
Australia has topped the medal tables at 12 out of the 19 Commonwealth Games, and a lot of its medal hopefuls both at Glasgow 2014 and in 2018 will come from Queensland.
It's not hard to see why Queenlanders are sporting mad. Lifestyle seems to be everyone's first priority.
I visited the building site that is the Gold Coast Aquatic Centre, which will boast an open air Commonwealth Pool.
My guide Andrew Baildon, a multiple gold medal-winning Commonwealth swimmer, talked about the need to invest both in the athletes and infrastructure.
However, as a former athlete and a father, he also explained how important it is not to push children too young. I joined him to cheer on his 13-year-old son Flynn as he set a personal best at a local swimming gala.
The Queen's Baton arrived in style on Surfers Paradise beach carried by Olympic Gold medallist Sally Pearson before ascending 245m (803ft) up Q1, Gold Coast's tallest building, in the arms of 17-year-old diver Brittany Broban.
This also allowed me a breathtaking view over the future host city of the Commonwealth Games.
From Australia, the Queen's Baton Relay continues its journey through the islands of the South Pacific.