Queen's Baton Relay: Finding part of the West Country in the Pacific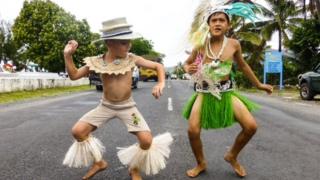 Five digits are all you need to call anyone in the Cook Islands. Next to the bed in my hotel room, I have conveniently found a very slim phone book. This little book allows me to reach most of the population who are spread across 15 islands. The archipelago covers an area in the sea about the size of Western Europe, but has only 10,000 residents.
As I settle down to some bedtime phone book reading, Palmerston, one of the closer islands (a short hop of 300 miles away!) catches my eye. Apart from Mr Abraham and Ms Tom, the 30 or so Palmerston residents all go by the same surname - Marsters.
The next day during the baton relay around the Cook Islands' capital Rarotonga, I met some Palmerston Marsters, dancing and celebrating with the greatest of gusto. I asked them about their family's island.
Their forefather was William Masters - a ship's carpenter from Gloucestershire in England, who landed in Palmerston in 1863. He was so taken with the island that he decided to stay and call it home. The tiny atoll of six sandy islets that add up to just one square mile became crowded pretty quickly with William's four wives and 23 children. I am told that he was a man with an unusual sense of humour. He named the best fishing spot on the island - 'Scratch my Arse Rock'. I think I can guess what the rock looks like.
A hundred and fifty years later and William Masters' descendants now number more than a thousand, but their surname has evolved. They're now known as Marsters thanks to the family's thick Gloucestershire accent which corrupted the name from Masters.
Who knew a phone book could be so interesting?