Queen's Baton Relay: Doing the legwork for Kenyan cycling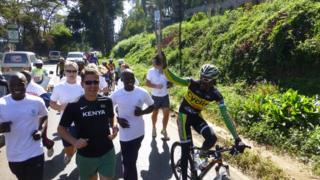 Aged 42 David Kinjah still looks every part the cycling professional on his full-carbon race bike as he proudly lifts the Queen's Baton on its relay through Nairobi, Kenyan.
As I ran alongside him in Nairobi, I find David is quiet and humble and I wonder if this particular manner was what allowed him to make a connection with a young man he first introduced to bike racing, a certain Christopher Froome winner of the Tour De France 2013.
Chris Froome, if his form and schedule allow, will be one of the biggest names competing at Glasgow 2014. After supporting his teammate Bradley Wiggins Tour de France win in 2012, Chris went on to become a household name in 2013 by becoming the second Briton in history to win the biggest prize in cycling.
It wasn't so long ago that Froome was competing as a Kenyan, the country where he spent the first 14 years of his life. His long road to the top started at the age of 12, when his mum took him to a bike race, where he met David Kinjah.
At the Melbourne 2006 Commonwealth Games, Froome and David were team-mates and both involved in a tenacious break away group from the peloton in the road race. They also competed in the time trial, where Froome came in a very respectable 17th and David in 31st.
By the time Delhi 2010 came around, Froome had turned professional racing under a UK licence and had moved to England, who he competed for, moving up to 5th in the time trial.
Froome certainly hasn't forgotten his Kenyan roots and the man who helped get him started. David told me that during the 2013 Tour de France Froome texted his old mentor and team-mate for some moral support just before his decisive stage win up Mont Ventoux, one of the most formidable climbs of the French Alps. In December 2012 Froome returned to Kenya, meeting up with David and his new cohort of young hopefuls from the Safari Simaz cycling team.
Still racing as a Veteran David used prize money from his bike races in 2012 to buy a satellite dish, decoder and pay TV subscription so that the young riders of the Safari Simbaz could all watch and be inspired by their Kenyan hero, Chris Froome. But the unsung hero is David himself, who continues to dedicate his life to his sport and the hopes of young Kenyans.