Queen's Baton Relay: Saint Kitts and Nevis to make table tennis debut in Glasgow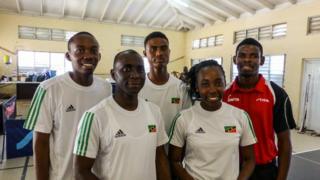 Eighteen-year-old Angelisa Freeman and her 19-year-old brother Andre are preparing for the competition of their lives at Glasgow 2014, as they form part of the first ever table tennis team from Saint Kitts and Nevis.
In a part of the world where most young people grow up dreaming of becoming sprinters or cricketers, the pair are inspiring a new generation of players.
The St Peters Community Centre is a modest, white washed concrete building, just big enough for two table tennis tables. The Saturday morning session is busy with about 20 youngsters, all training with and aspiring to be like their national stars, Angelisa and Andre, who are still teenagers themselves.
Kevin Hope, the President of the Saint Kitts and Nevis table tennis association, was there. He explained: "Since the first Caribbean Junior Championships held in Saint Kitts and Nevis in 2009, Angelisa and Andre have competed at the national level and we have been able to push the progress of these two young athletes.
"We feel it is now time to give them that bigger exposure at the Commonwealth Games and to prepare them as future Olympians."
Kevin also paid tribute to Laverne Merritt, who passed away on March 26th this year. He believes Laverne was a table tennis trailblazer in Saint Kitts and Nevis who went out into the communities to find and develop new talent.
Coach Calvin Lake, 42, and 15-year-old T'Anje Johnson will make up the four person team at Glasgow 2014. But all expectations are on the siblings, as Kevin explained.
"Angelisa and Andre are quite the pair - when you see them playing in the mixed doubles, that is when you will see where the passion lies. The family love, that they really push each other. And in table tennis you need that partner to challenge you to be better.
"Andre is a bit more on the aggressive side. Angelisa is a bit more of a balanced player. She is conservative, I guess that is her disposition by nature and she would at least keep herself in the game until the opportunity comes to attack."
For all the family rivalry, Angelisa is glad to have her big brother with her.
"It's a family affair so I won't be as nervous (going to Glasgow) as I would be if it was other players. When we play together, it was him normally winning, but now I give him some competition!
"Our parents motivate us and keep us focused. I am the only female at this level in Saint Kitts so I have to practice with other guys, which definitely raises my playing standards.
"I think I would like to play professionally and also teach other people, especially females, as there is a lack of female players. For the next few years I certainly be practicing a lot and keeping the sport alive in Saint Kitts."
Andre recalls how he first tried table tennis at a summer camp organised by Merritt.
He added: "We then got to go to Guyana to play for Caribbean juniors and the passion for the game got me, and I wanted to push it a little further, to go out there and make my nation proud.
"When I was growing up I imagined I would compete for my country, but I didn't know which sport. I played lawn tennis, basketball and cricket, but I soon loved table tennis the most, so I abandoned the rest and focused."
Asked what it will be like to face the best in the Commonwealth, Andre remains optimistic. "The big teams are not used to our playing style, so we could still give them a little hiccup as the underdogs."
Kevin, though, remains more cautious. "We will use Glasgow to give them exposure - to get them playing against the Singapores, the Indias, so that they can see the level and we can come back and continue working. Everyone likes a good underdog story.
"But we are going to be realistic, we want our athletes to get out there, to be focused, and to try and avoid making many errors. I am certain we will win points, hopefully a set, but hopefully they will recognise that they have a longer journey to go."
Come win or lose, Andre remains excited. "We all grew up knowing about the Commonwealth Games, but for table tennis in Saint Kitts and Nevis, it is our first time and our honour."