Queen's Baton Relay: Meet the father of sprinting sensation Zharnel Hughes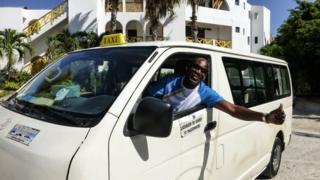 In the world of athletics, all eyes are on 18-year-old Zharnel Hughes.
A few weeks ago, he ran 10.12 seconds in the 100m of the prestigious Jamaican Inter-Secondary Schools Boys and Girls Athletics Championships - beating a record held by sprinting superstar Yohan Blake.
As the Queen's baton travelled through his homeland of Anguilla, I hailed a cab driven by his father Howell. Now the most famous taxi driver on the small island, he laughs that he is no longer known as Howell and only as Zharnel's dad.
We stop for a coffee and I look up Zharnel's record breaking race from 28th March so we can watch it together. Within a week of being posted online, this clip has had over 33,000 views.
As Zharnel strides to victory, his father sits back with a deep, long laugh.
"It's not surprising to me - from an early age he was fast. We would often go to the beach and have a race, sometimes I beat him, sometimes he beat me.
"He always had that pace. From the age of 12, I figured he would make the top."
Like Usain Bolt, Zharnel is not the fastest out of the blocks, but at the 50m mark he strides out and finds another gear while the field fade around him.
It was a staggering run for a schoolboy.
Anguilla measures sixteen miles by three miles and there is only one grass running track on the island which Zharnel first trained on. The teenager now trains in Jamaica at the High Performance Centre, next to Bolt and Blake.
His dad explained: "From an early age, he was the fastest of his friends, the fastest on the island. He is a natural talent. Growing up there wasn't a chance for him to leave Anguilla, so now he is getting established he is getting to travel."
Howell is the most laid back man I have met in the Caribbean, which is really saying something.
He is proud of his son's style: "He is very relaxed. After the race he doesn't brag or anything. If you notice after some races he puts his fingers across his lips, which I think is his way of saying don't talk too much and just keep calm.
"I think a lot of people will be inspired by my Zharnel."
Howells has one final bit of fatherly advice for his talented son. "One step at a time, keep relaxed, and keep the party flame going."