George Osborne's welfare 'clash' and Simon Hoggart tributes in press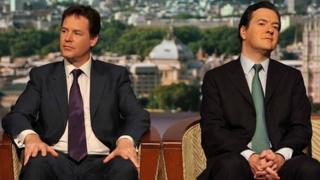 Cabinet tensions over George Osborne's "year of hard truths" announcement that he intends to cut another £12bn from the welfare budget prompt much discussion in Tuesday's papers.
Liberal Democrat leader and deputy PM Nick Clegg accused the chancellor of launching an "unrealistic, unfair" attack on the poor, while demanding no sacrifices from the elderly, reports the Independent.
Describing Mr Clegg's words as "uncharacteristically strident", the Guardian's editorial says that if the coalition "begins to fall out over a fiscal position that was its raison d'etre, then Mr Osborne could discover that 2014 is a year of hard truths indeed".
The Sun sees the Lib Dems positioning themselves. "Labour would raise taxes and cut benefits less. That's now Nick Clegg's plan too. As he cynically lines up his next job as Miliband's mate," it says.
Steve Richards, in the Independent, feels the chancellor may have "gone too early" in showing his hand. "Always fragile, a party's pre-election plans can withstand scrutiny, but not for a year and a half."
'Miserly' pension
In his analysis of Mr Osborne's stance, the Daily Telegraph's James Kirkup notes that the two "biggest drains" on the state - the state pension and the NHS - will escape the axe, meaning the state "might look distinctly lopsided".
The Financial Times warns the chancellor against "fetishising" the pursuit of one of his pledges - a budget surplus by 2019 - at the risk of damaging growth by cutting too hard.
Rather than taking £12bn from working-age benefits, it adds, it would be more sensible "and generationally equitable... to spread the pain across all benefits, including pensions".
The Times, agrees, saying: "Getting one generation to shoulder a disproportionate burden is not equitable and is unlikely to work".
However, the Daily Express points out that "Those pensioner benefits have already been paid for over a lifetime's work while young welfare recipients, who have contributed nothing as yet, are rewarded while many young workers not receiving benefits cannot afford to move out of the family home."
Mary Dejevsky argues in the Guardian that older people must make their voices heard, adding that "The state pension is miserly, and it is not a benefit," describing it as an entitlement after a lifetime of compulsory saving.
Meanwhile, the Daily Mail highlights the prospect of transport union leader Bob Crow - a staunch critic of the government - being forced to move out of his council house or pay much more in rent, as ministers consider means testing high-earning tenants.
The paper's cartoonist, Mac, plays on the theme by sketching a butler warning a maid: "Watch out. They're in a foul mood. Apparently George Osborne may be targeting better-off tenants."
'Fluent and truthful pen'
The Guardian records the death of its long-standing sketchwriter, Simon Hoggart, on its front page, with Michael White noting that even some victims of his "anarchic and acerbic" wit will mourn his passing.
And there were tributes from many of his counterparts, such as the Independent's Donald MacIntyre who recalls Hoggart's "ability to notice something that could make his readers laugh out loud at what had seemed to the rest of us like the driest of parliamentary occasions".
The Times's obituary describes Hoggart as a "seasoned newspaper reporter who went on to transform the traditional coverage of Parliament with his irreverent and witty sketches".
It remembers, in particular, one description that: "Seeing John Major attempting to run the country is like watching Edward Scissorhands trying to make balloon animals."
Another celebrated sketchwriter, the Mail's Quentin Letts, writes of a man who "bore grudges the way Italian waiters carry plates" and "would boil over like a Hillman Imp's radiator when he heard politicians smear themselves with bogus glory".
But Letts adds: "Simon wrote like a dream. I invariably envied his inventive riffs. I'll miss the old bugger."
New regime
"Cameron runs hard to win battle of the bulge," declares the Times, underneath photographs of the prime minister - clad in black polo top and shorts - "struggling to keep up with his well-built trainer" during a morning run it describes as "extremely challenging".
Coincidentally, the paper offers a much less strenuous-sounding route to a slimmer figure, in the form of a four-page pullout entitled: "How to lose your paunch: The four-minute workout for men."
And it's not the only one with some pearls of wisdom to aid readers' new year fitness kicks. The Daily Mirror offers a free magazine - The food lover's Slim for Life plan - while the Daily Telegraph offers five tips for losing weight under the headline: "Forget fad diets, lose weight with NHS experts." Government health advisers say people "pour money down the drain" by signing up to weight-loss programmes in January, it reports.
"Forget the gym," says the Daily Mail: "Sexercise is the best way to slim." Canadian researchers have found that an hour of "romance between the sheets" burns almost as many calories as a 30-minute jog "so should be taken into account when drawing up a fitness plan", it says.
Its cartoonist, Pugh, pictures a disgruntled wife turning to her husband, who's puffing on a cigarette in bed, and saying: "I wouldn't look too smug. You only just burned up one calorie."
Back-page blues
The Times's back page describes the "end of the world" for Arsenal footballer Theo Walcott, whose knee ligament injury - sustained during Saturday's FA Cup win over rivals Tottenham - has ruled him out of England's World Cup squad.
But it seems it's not quite the end of the world for under-pressure Manchester United manager David Moyes.
The Sun hears from Old Trafford legend Gary Pallister that the players "don't trust" the man who took over from Sir Alex Ferguson in the summer and saw his side bow out of the FA Cup at home to Swansea on Sunday. But the paper also notes that the club's owners have told Moyes to "splash the cash", describing a £50m "war chest".
That figure is more like £100m, according to the Daily Express. It says the American Glazer family, who hold the Old Trafford purse strings, have told Moyes to "break the bank". The Daily Mail says the "rescue kitty" amounts to £200m.
Before fans get too excited, the Guardian says United "are steeling themselves for disappointment in the transfer window, accepting that key targets are unlikely to move mid-season".
And the Independent reports that the club may not sign anyone at all, as its board refuses to make "stopgap" acquisitions.
Making people click
Times: Landmarks that stood firm for centuries swept away by storm
Mirror: Chelsea set to block Ryan Bertrand's Liverpool transfer... because Victor Moses loan is not working out
Guardian: David Moyes's failings suggest Manchester United chose wrong man
Financial Times: China draws up new rules to curb shadow banking risks
Mail: Maimed for being pretty: Victoria's Secret girl had acid thrown in her face by jealous friend, court told