Extreme weather, pay rises and Nick Clegg's happy birthday in the papers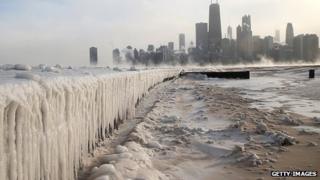 While North America freezes and much of Europe is both battered by winds and soaked by flooding, the extreme conditions are at least providing good sport for photographers.
Two striking images make the front pages, with the Sun dedicating much of its cover to an image of an iced-up lighthouse in the US and the Guardian picturing a surfer dwarfed by a giant wave off the French Basque coast.
And there are plenty more inside. "Where ark thou Noah?" asks the Daily Star over its two-page spread featuring the collapsed promenade shelter in Aberystwyth and a surfer thrown upside-down by the swell in Cornwall. The Daily Express shows Suzette Billington's house in Somerset, marooned by floodwater, but dry thanks to her late husband Douglas's foresight - he built a 6ft (two metre) clay bank around their land.
The Times pictures a herd of horses running through flood water to get to dry land in Dorset and people sitting on a seafront bench in Aberystwyth, surrounded by bricks and rubble left when huge waves breached the sea defences.
Meanwhile, the Daily Telegraph focuses on the 150 million-year-old stack known as Pom Pom Rock, off Portland in Dorset, which was destroyed by 30ft (10-metre) waves. While the Sun reports that Hell, Michigan, has frozen over, the Telegraph hears from a deputy town clerk who claims Embarrass, Minnesota, is America's coldest place. Sandy Gibson says it's been deprived of the official record by a faulty thermometer but that - now they have a new one - "we will get the record which should have been rightfully ours".
Buying British
Farmers are accusing the government of hypocrisy after the environment secretary's call for shoppers to buy more British food, reports the Daily Mail.
"If Owen Paterson is going to get the public to buy British then he should also get the government to buy British," National Farmers' Union president Peter Kendall is quoted as saying, suggesting that hospitals and schools should buy home-grown food rather than sourcing the cheapest goods. Mr Paterson told a farmers' conference he was starting a drive to do just that.
Joanna Blythman, in the Mail, urges people to "ditch those oh-so-bland imports" but worries that the "knowledge and associated shopping skills" to identify seasonal produce "are in real danger of being forgotten".
However, Tom Bawden, in The Independent, asks whether Britain "is really able to feed itself" without imports, and finds British farming needing "investment galore".
The Times, meanwhile, finds farmers angry at Mr Paterson for "promoting the benefits" of climate change. The minister has suggested environmental warming could result in longer growing seasons but the paper quotes Mr Kendall as saying too much was unknown about the consequences of even a small temperature rise.
Damaging debate?
Times cartoonist Peter Brookes links the weather to the ongoing debate over immigration, sketching David Cameron placing a flood warning sign at an airport EU arrivals hall. A solitary migrant looks wide-eyed as he wanders past.
The debate over migrants' entitlement to benefits rumbles on, with the Daily Mail reporting London Mayor Boris Johnson's calls to deprive them of child benefit. The Daily Express, meanwhile, quotes UKIP leader Nigel Farage as saying that newcomers should be barred from claiming any benefits in Britain for five years.
The Independent reports suggestions from charity ChildLine that the heated debate is "souring race relations in the classroom", with more than 1,400 children contacting the helpline about racist bullying in 2013 - a 69% increase on the previous year.
Islamophobia is a particular problem, it says, quoting children's complaints including that the abuse has destroyed their confidence or that the issue is ignored by teachers.
Reviewing the papers for the BBC News Channel, financial analyst Louise Cooper said: "Kids repeat what their parents say to them. It reflects what maybe they are hearing in their home environment." Daily Express deputy editor Michael Booker said: "It's an unfortunate part of human nature. People pick on people who are different. The media are only reporting what public opinion is."
Happy birthday?
The Daily Mail wonders whether Boris Johnson might have gone too far in describing Deputy Prime Minister Nick Clegg as "David Cameron's prophylactic protection device". But the Sun enjoys the description, picturing the Lib Dem leader as a condom, alongside the caption "rubberish".
"I had no idea such a task was part of Mr Clegg's portfolio," writes Telegraph sketchwriter Michael Deacon. "The person I really feel for in all of this is Samantha."
It was Mr Clegg's 47th birthday on Tuesday and Ann Treneman, for the Times, found Mr Clegg unfazed by the description and "revelling in being hated" during angry exchanges in the Commons: "We are used to Nick Clegg being a figure of fun but now he is a figure of fume... For the first time in ages, the DPM didn't look even remotely sad. Happy Birthday Cleggers indeed."
The Mail's Quentin Letts describes Mr Clegg as being "so spry and wholesome and zingy that he could be in an advert for erectile dysfunction cures", adding: "He lapped up Labour's antagonism. His voice was shrill but it did not lack confidence. He relished the fight. Gosh, he loves being deputy PM."
Michael White, in the Guardian, didn't see it that way, however, noting that Mr Clegg told MPs: "On my birthday I look forward to nothing more than coming to DPM's questions." The sketch continues: "Some politicians could have got a laugh out of that admission, rueful but funny. Not Clegg. In his glum Eeyore-ish way he sounded genuinely sorry for himself."
Pay rise?
David Cameron hopes to "force up the minimum wage by as much as £1," according to the Sun, which says he has the backing of Lib Dem Business Secretary Vince Cable. The paper is all for it, but cautions: "Our concern is only that the Tories will use it as a manifesto pledge... it must not be an election bribe. It should happen this year, not next."
Likewise the Independent supports the move, arguing: "A substantial rise in the minimum wage would be a good way to share fairly the fruits of the recovery - and at the same time would increase the incentives to work." The move could stimulate further growth, it adds.
But not everyone is happy with the reports. According to the Guardian, it was Mr Cable's plan in the first place and the Liberal Democrats have "accused the Tories of 'nicking' their ideas".
In any case, the Financial Times says, Chancellor George Osborne has "so far refused to back the plan, fearing it could destabilise the Labour market and damage the coalition's record on job creation". The FT's editorial says there is "doubtless scope for a moderate increase" but urges caution saying that it "may produce perverse effects" given the UK's uncertain economic growth.
Making people click
Telegraph: Vigilantes whip 'prostitutes' in nightclub attack
Guardian: Porn trends in the UK: from time online to the biggest search terms
Times: A separate NHS tax would rein in spending
Mirror: Boy of 12 hauled out of class by police over David Cameron Facebook protest
Independent: 'Cakewalk, Cakewalk, Cakewalk': The bizarre reason Jennifer Lawrence fell at the Oscars