Irish President Michael D Higgins's visit, Maria Miller's 'plea' and Peaches mystery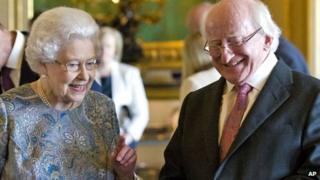 Photographs of Irish President Michael D Higgins with the Queen during his historic state visit make most newspapers.
The Financial Times describes "reconciliation to the fore" as both countries "put their war-ravaged history behind them", while the Times's editorial suggests the visit symbolised that "historical enmity.... has been replaced by as warm a friendship as exists between any two nations".
"Before he spoke, the symbolic resonance was almost too rich to absorb," says the Independent's Donald MacIntyre. "He had paused with his wife at the Westminster Abbey memorial to Viscount Mountbatten, killed by the IRA in Sligo in 1979, an act that handsomely acknowledged the personal element in the Queen's own reconciliatory approach."
Quentin Letts, in the Daily Mail, remembers Mr Higgins as a 1980s "rent-a-quote Lefty". "Yesterday he rode in a horse-drawn carriage to Windsor Castle, ate his luncheon with the Queen of England and later had himself driven to Westminster to address both houses of parliament. People speak of him theses days as a poet, father of the nation. Statesman Higgins! He has grown in reputation. Physically he remains a half-pinter: The height of a jockey and the twinkle, plus pate, of a ripened pixie."
John Crace, in the Guardian, says: "No wonder the Speaker looked so happy to be sat next to him. Unlike [John] Bercow, what Higgins lacks in stature he more than makes up for in presence. He is one of those rare politicians who naturally inspires trust... an academic, poet, author, as well as statesman."
'Significant act'
However, for papers like the Sun, the presence of Northern Ireland Deputy First Minister - and former IRA commander - Martin McGuinness at a Windsor Castle banquet was an "outrage".
"A toast to the Queen from ex-IRA fighter," is the Daily Telegraph's headline, as it recalls Mr McGuinness standing for the national anthem in what it describes as "a significant act for British-Irish relations". However, it adds: "Outside the castle walls, others found it harder to forgive."
The Daily Mail leads on one such case - that of Victor Barker, whose 12-year-old-son James died in the 1998 Real IRA bombing of Omagh. He's pictured on the front page, holding a placard which reads: "A terrorist in a white tie and tails is still a terrorist." His view is shared by Mail columnist Stephen Glover, who argues: "Dine with IRA killers, your Majesty, and it will be al-Qaeda terrorists next."
The cartoonists give their own take on the deputy first minister's presence at the occasion. Matt in the Telegraph pictures a butler asking: "Will sir be wearing his formal, evening balaclava?" The Times's Peter Brookes pictures Mr McGuinness in top hat and tails, leaving bloody footprints behind him as he walks to the banquet.
Toast?
Culture Secretary Maria Miller is once again on front pages, with the Daily Telegraph quoting an article given to her local newspaper in which she said she had "let down" voters. The Times describes the cabinet minister as begging constituents to "feel her pain" when she told the Basingstoke Gazette all allegations against her had been dismissed and that she had repaid an "overclaim".
Meanwhile, the Guardian leads with the text of a "plea" for support sent by her aide, Mary Macleod, to backbenchers in which she claimed Mrs Miller had been victim of a "media witch-hunt". The paper calls the move a "desperate fightback".
However, there's no sympathy in the Sun, which describes her stance as: "Everybody is picking on me." The paper, which took a banner to parliament demanding her resignation on Tuesday, produces a guide to how long ministers have "clung on" to jobs after scandals in the past. Notable names include David Mellor (36 days), Peter Mandelson (one day and three days) and David Blunkett (123 days).
The prime minister faces "party fury" over the scandal, ahead of a meeting of the backbench 1922 Committee, says the Daily Express. Meanwhile, the Mail wonders: "Why didn't [David] Cameron avoid this car crash?" It adds: "What this affair reveals above all is this government's sheer incompetence at handling public relations... The fate of an individual minister is almost irrelevant now, in an affair that has become much more a question of the prime minister's standing in his party."
Cartoonist Dave Brown, in the Independent, has no doubts about what Mrs Miller's fate will be, picturing her as toast at the PM's breakfast table. For the Guardian's Martin Rowson, the culture secretary is soup. He draws her on the table in front of Mr Cameron at the Windsor Castle banquet.
Peaches mystery
The death of Peaches Geldof continues to make headlines, with most papers recording the mystery over what caused her to die aged 25. Police have said it was "non-suspicious" but "sudden".
The Sun leads on an Instagram message posted by the writer and TV presenter's sister, Fifi, alongside an image of the pair as children. It read: "My beautiful baby sister... gone but never forgotten."
Some columnists, such of the Sun's Martin Phillips, write of the "tragedy" that "dogs" her father, the anti-poverty campaigning musician Bob, who "healed the world but will never heal his own pain".
"How horribly tragic that Bob Geldof, the man who tried to save a million lives in Africa, has been unable to save the lives of two of the women closest to him," writes the Mirror's Alison Phillips, referring to the death of his estranged wife - and mother of Peaches - Paula Yates, aged 41, in 2000.
The Times reproduces Peaches Geldof's final column, written for Mother & Baby magazine, in which she spoke of having "achieved a sort of perfect balance" and added: "Right now, life is good. And being a mum is the best part of it."
Meanwhile, the Daily Star reports that "ghouls" tried to cash in on her death "minutes after the tragedy was announced" by offering memorabilia. "Angry fans yesterday branded the sellers 'sick'," it says.
Making people click
Daily Mirror: Britain's first CLONED DOG is born after owner wins £60,000 contest
Daily Telegraph: We should give up trying to save the world from climate change, says James Lovelock
Guardian: Gender-flips are a simple and smart way to turn sexism on its head
Times: MoD tries to block its own book on Helmand
Independent: Oscar Pistorius trial: Athlete recounts moment he shot Reeva Steenkamp in court