E-borders 'fiasco', Julian Assange's 'PR stunt' and Fringe's funniest joke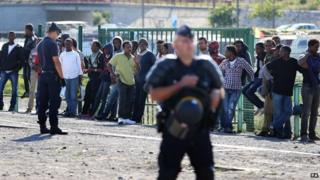 Britain's border security is under scrutiny in many of Tuesday's papers.
As the Guardian notes, taxpayers must pick up the £224m cost of damages awarded to US defence firm Raytheon after a tribunal ruled that the now-defunct UK Borders Agency used a flawed process in coming to a decision to scrap a contract to install a system to vet travellers in and out of Britain.
The company had been creating the e-Borders system, which was supposed to vet people against police, security and immigration watchlists. The result of the "fiasco", says the Daily Mail, is that one in five people avoids the checks - some 20 million passengers a year. That includes six million people who arrive by Eurostar, the paper adds.
Several papers look at the number of refugees trying to make their way to the UK, with the Daily Express reporting that a camp near the French port of Calais - where up to 2,000 people wait to try to sneak into Britain by hiding in lorries - is to be demolished.
James Kirkup writes in the Daily Telegraph that French officials say the number of illegal immigrants arrested around Calais has doubled this year, while there have been tens of thousands of claims for asylum in countries in mainland Europe. Many of those asylum seekers travel by sea to Italy or Greece. "How can Britain respond to a problem that originates on beaches hundreds of miles to the south?" asks the writer, wondering whether the problem must be solved "at a European level".
The Independent's editorial declares that "EU law as it stands is a godsend to people-smugglers" because it demands that people seek asylum in the country where they first arrive, when most want to leave poorer southern countries for Germany, Sweden and Britain. The paper calls for a system that apportions migrants across the EU but wonders which political leader would "stand up and make the case".
---
'PR stunt'
The Daily Mail is unimpressed with what it calls Wikileaks founder Julian Assange's "latest PR stunt... a rambling press conference" during which he suggested he would soon leave the Ecuadorian embassy, where he sought refuge two years ago. Its editorial complains: "Whatever this hero of the Left-wing chattering classes does next, it will be self-serving, and almost certainly perpetuate a farce that has already cost the British public £7m."
That's a reference to the sum spent ensuring police are ready to arrest him as soon as he emerges, to allow his extradition to Sweden where he faces sex assault claims. Mr Assange denies any offence and says he fears he could eventually be handed over to the US for publishing classified US military documents. Times cartoonist Morten Morland remembers the Australian delivering a speech from the embassy's balcony and sketches him demanding: "I want justice." In the cartoon, a statue of Justice is checking a watch and replying: "I want you too."
Reports ahead of the press conference had suggested Mr Assange was suffering health problems. But at the Independent, Charlie Cooper says that although Mr Assange had not been specific about any illness, the biggest threat to his wellbeing comes from mental strain.
The Guardian's Esther Addley observes: "Assange has grown a neat beard in recent months - 'it's a helpful point of reference for people to acknowledge the passing of time,' he told the Mail on Sunday - and wore a dark suit and grey shirt without a tie. He is pale, certainly, but not more than one would expect after so long under artificial lights There was no particular evidence, whatever reports might have suggested, of a diminution in 'fighting spirit'."
Oliver Kamm suggests in the Times: "It's a fair bet that Assange's involuntary hosts at the Ecuadorean embassy may have hoped for more detail in his announcement yesterday that he would be vacating the premises 'soon'. Even a more sympathetic figure than Assange, with a better complaint than evading a valid European arrest warrant, is liable to be a prickly guest."
---
Funny people
The papers enjoy TV channel Dave's annual joke competition at the Edinburgh Fringe and let loose sub-editors to try to outdo each other to find the wittiest pun.
Tim Vine's one-liner - "I decided to sell my Hoover… well, it was just collecting dust"- inspires the i to offer: "Hoover gag sees Vine clean up in joke contest." The Mail's effort is "Heard the Hoover joke? It bags a prize at the Fringe!", while for the Daily Star: "Tim is done 'n dusted."
The Daily Mirror doesn't just list the jokes voted in the top 10, it rattles off the "worst" ones too. They include Mike Shepherd's "I'm lazy - my childhood ambition was to be an injured footballer," and another of Vine's: "I did a gig in a fertility clinic. I got a standing ovulation."
Meanwhile, the critics head to former Newsnight presenter Jeremy Paxman's one-man show. "Not many would have predicted that it would involve an early evening spot in a cabaret bar, at the Edinburgh Fringe's biggest comedy venue, a glittery silver curtain and routines introduced variously by the voice of University Challenge, Roger Tilling, and Rihanna's 'Rude Boy'," writes Alice Jones in the Independent.
The Guardian's Alex Needham describes a mix of "gravitas with self-mocking glitz... Paxman could afford to be self-deprecating - the show is one of Edinburgh's most sought-after tickets".
The Times's Mike Wade finds the journalist able to handle some highbrow heckling. "The first audience member to be offered a question compared Paxman to a meticulous serial killer, incapable of a 'disorganised emotional attack' on his victims. Did he think that a failing? 'There is a difference between me and you,' Paxman fired back, with endearing disdain. 'You are clearly nuts.'"
---
'Z-listers'
The Star whips itself into a frenzy over the launch of the latest round of Celebrity Big Brother, suggesting on its front page that the latest intake of contestants have "vowed to make this series a huge sexfest".
"It's a knockout," declares the Daily Express of the 14-strong line-up, next to a big picture of former boxer Audley Harrison, although it profiles each of the contestants for any readers not so familiar with some of the personalities.
The Metro's Andrei Harmsworth isn't quite so enthused, describing the contestants as "Z-listers" as he reports that Lauren Goodger - previously of reality show The Only Way is Essex - "declared she's on the hunt for love as she entered the Celebrity Big Brother house".
The Sun hires last year's winner, comedian Jim Davidson, to run through the contenders and offer odds on them winning. He fancies Deirdre Kelly, whose appearance on another reality TV show - Benefits Street - put her in the public eye. "She will definitely stir up trouble," he says.
However, the paper says Kellie Maloney - formerly boxing promoter Frank - is the bookies' favourite, alongside yet another reality TV character, Gogglebox's George Gilbey.
---
Making people click
Telegraph: Cross-dressing Mafia kingpin arrested at Sicily port
Guardian: Breaking Bad's Aaron Paul: 'I miss Jesse Pinkman'
Financial Times: Strategies for calling time on long hours
Times: The midlife running guide: how to get going after forty
Mail: Happy families: Katie Price shares intimate photo of her and husband Kieran Hayler celebrating Jett's first birthday