RAF strikes, Theresa May v Boris Johnson and Chanel's Paris 'protest' show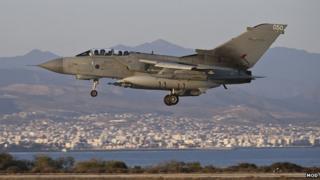 The situation in Iraq, where the RAF has bombed Islamic State (IS) targets, competes with the latest from the Conservative party conference for space on front pages.
But while lead stories - like that of the Times, which produces a graphic explaining the air strikes - focus on the military action aimed at eliminating the militants, inside pages review the home secretary's plans to prevent Britons becoming caught up in extremism.
The Daily Express carries Theresa May's warning that jihadists could become a nuclear threat within the world's first "terrorist state" unless they are stopped now, while the Daily Mail reports her plans to "ban preachers of hate from attending public meetings or spreading their bile on Twitter".
"Mrs May gave a ringing defence of British values, and promised that no group that departed from them would be allowed state funding, and that is welcome," says the Times.
However, the Independent argues: "Mrs May's methods for dealing with extremism lean too far in the direction of authoritarianism. In an effort to preserve British values, among which May included 'freedom of speech', she has sanctioned moves that would hack away at that and other foundations of our society."
---
Heavyweight contest?
For the sketchwriters, the real fascination wasn't in policy announcements but the perceived battle between two Tory heavyweights.
"Despite everything - defections, resignations, a deficit in the polls that refuses to shrink - they seem convinced that next year's general election can be theirs," writes the Telegraph's Michael Deacon. "Naturally, therefore, the attention of the press has turned to the question of who'll replace David Cameron as leader when they lose."
And Mrs May's performance was weighed up against that of London Mayor and parliamentary hopeful Boris Johnson. "How could Boris compete with her concentrated gravitas?" asks the Independent's Donald MacIntyre. "He didn't try. Boris doesn't do grim. Or gravitas... That's Boris's pitch against a strengthened May candidacy: a post-gravitas politician for a post-gravitas age."
As the Mail's Quentin Letts put it: "Theresa was fierce, Thatcherish. Then Boris scuttled in like a Benny Hill character." The Guardian agrees on the "unexpected winner", saying: "Boris delivers reliable laughs but it is May who has Tories purring."
Matthew Engel, writing in the Financial Times, reckons Mrs May "completely upstaged" her rival. "The twin message... was unmistakable. Watch out for those who threaten our liberties. And watch out for ME," he says. When Mr Johnson came to the stage, the writer adds: "The mood was all wrong. It was like bringing on Tommy Cooper after the prophet Elijah."
The Sun is in no doubt who should be taken seriously, rebranding the home secretary "Maggie May" and giving her a make-over with Margaret Thatcher's hair and clothing. As for Mr Johnson, it adds: "To be seriously considered for the top job, Boris will have to show his serious side."
---
'Ghastly decade'
On the back of a survey suggesting that a third of Britons would rather live in the "swinging 60s" than the present day, the Mail's Simon Heffer declares anyone of that view "mad", arguing: "It was a ghastly decade."
"Our national obsession with pop culture has fed this longing for the era, with few realising there was actually more to the decade than the priapic Mick Jagger and the celebrated IRA sympathiser John Lennon," he says.
The writer takes swipes at Harold Wilson's Labour government, the abolition of the death penalty, the decade's architecture, "rust-bucket cars", cuisine and beer: "This was an era of national shame: the era of Watney's Red Barrel." He'd prefer the 1860s, "and a few years under the exciting and benign rule of Lord Palmerston and Mr Gladstone".
The Daily Mirror also questions whether the 60s were "so great". Comedian Barry Cryer argues that the "greater sense of freedom", new working-class sitcoms, legalisation of homosexuality, "explosion in popular culture of the best kind" and development of the contraceptive pill made the decade "so exciting".
However, columnist Paul Routledge describes it as a decade of struggle - for women's rights, rights at work, against the Vietnam War - of fear of nuclear war and of racial tension.
---
Fashion statements
As the Guardian puts it, "the unthinkable happened" in Paris: "Feminism entered the realm of high fashion." The paper is describing Chanel's Paris Fashion Week show, where designer Karl Lagerfeld had models stage a faux protest - complete with placards, megaphones and chanting - on a recreation of a French boulevard.
"Few would dispute Kaiser Karl's ability to entertain," writes Carolyn Asome, in the Times. "Alongside the feminist chants led by Cara Delevingne, cards also bore witty slogans imploring that 'Boys should get pregnant too', 'Divorce pour tous' and 'Tweed is better than Tweet'."
The Guardian quotes fashion bloggers alternately describing it as "the fashion industry's feminist battle cry" and a cynical ploy to sell handbags. Jess Cartner-Morley's analysis suggests "it would be naive to take this show too seriously", given Lagerfeld's previous contention that concerns over size-zero models are the whinings of "fat mommies with bags of crisps". However, in this show's case, she adds: "A well-meaning joke is surely far better than a nasty one."
For the Independent's Alexander Fury, it was "the artifice of anarchy. A joke, sure, but not an especially funny one". He adds: "A few of the models had the good grace to look embarrassed; most seemed to think it was a bit of a laugh. Which also summarised the audience's reaction."
But what of the clothes? "The spirit of emancipation that wafted fragrantly across the Chanel show invited us to join an exceedingly broad church," writes the Telegraph's Lisa Armstrong. "It even admitted flared, checked tweed trousers into the fold. And we all know they'll add several centimetres to the sisterhood's thighs."
However, the writer praises the styles on offer: "What Chanel's brand of feminism really boils down to is wearable items - and lots of them."
Jo Ellison, in the Financial Times, agrees. "You wait all season for some wearable fashion, and then there's a riot of it," she says. "In essence Lagerfeld's ideology here translated into wearable clothes that covered all bases - and an attack on fashion homogeny."
---
Hot off the press
The Guardian marks the first day of October by declaring that the past month is expected to prove the driest since records began in 1910, as well as one of the top five warmest. According to the Daily Mirror, there's more good news for sun worshippers. "Temperatures today are expected to hit 21C (70F) which will be hotter than Bondi Beach in Sydney," it reports.
It's caused exotic plants to flourish, according to the Daily Express which says: "A banana tree has borne fruit in an English back garden." However, there are worrying consequences, as photographs of the dry bed of the River Wharfe in Yorkshire would attest.
"But guess what?" asks the Sun. "Councils have put hundreds of winter gritting lorries and staff on duty today - in 22C (72F) heat." The paper suggests officials have "grit for brains" but a representative of the nation's local authorities explains: "Councils are testing gritting routes and equipment."
In spite of the dry weather, "there have been local exceptions - Ambridge, for example, saw a notable downpour," says a tongue-in-cheek Telegraph editorial. It adds: "Admit it. We might enjoy complaining about the weather, as we had every chance to do during the unprecedented storms of last winter, but for once our islands' temperate climate has been kindly. Gratitude would not be out of place."
---
Mail: 'Marriage feels pretty damn great!' Smitten George Clooney opens up on tying the knot with Amal Alamuddin as first pictures from their lavish Italian wedding are revealed
Guardian: First Ebola case diagnosed outside Africa being treated in US hospital
Telegraph: Terrifying cannibal shark on shark attack caught on camera
Times: UKIP is doomed to be the dead parrot party
Financial Times: Hong Kong braced for storm of pro-democracy protests