Newspaper headlines: Drugs strategy, tax pledges and elderly care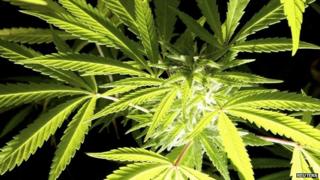 The main story for the papers is a Home Office report that questions the relationship between being tough on drugs and the levels at which they are used - it is the lead story for the Independent, Guardian and Telegraph.
The Independent asks whether Britain is "ready to grow up" over drug abuse. The paper says the report suggests that treating possession of drugs as a health - rather than criminal - matter reduces drug deaths and HIV infection rates without increasing addiction levels.
In an editorial, the paper appeals for "common sense to prevail" when the Commons debates the issue on Thursday, saying that few areas of public policy are as badly served by our politicians.
"It will be interesting, and heartening, to see how many of our elected representatives are prepared to speak up on behalf of constituents who have been so wilfully misled about the war on drugs," it says.
The Guardian says the government document - comparing different approaches to drug control around the world - brings to an end 40 years of almost unbroken official political rhetoric that only harsher penalties can tackle the problem.
The paper thinks the development a good thing: "No party ever won or lost an election because of its drug policy. Yet it is a subject that strikes fear in the hearts of most politicians and leaves them deaf to demands for a review or reform. They are locked in the old wisdom that if drug use is harmful the best way of tackling it is punishment, too timid to examine the facts or challenge conventional thinking."
The Daily Telegraph, while noting the findings of the report, says the study is believed to have caused a row in the coalition between Home Secretary Theresa May and Liberal Democrat Home Office minister Norman Baker.
The Times says the report's "controversial" findings on decriminalisation undermine a long-standing Home Office position that tough law enforcement action by the police will curb drug use.
The Daily Mail says the Home Office appears to have paved the way for legalising drugs in an "extraordinary" report, which it pins firmly on Mr Baker and his party.
"Is it high time for a change?" asks the Sun, after what it calls a "landmark" report. The paper also has a poll that suggests seven out of 10 people think the "war on drugs" will never be won.
"Whether or not drugs laws should be relaxed, one thing is now clear," it says. "A vast majority - 71% think the War On Drugs has failed. That means we can't just carry on with the status quo. Some say we don't properly enforce the laws. Others say their whole basis is misconceived. Something has to change."
---
Home care
Writing in the Times, David Cameron says cutting taxes is a "moral duty" and pledges to reduce the average workers' tax bill by £3,800 by 2020.
The paper says it is understood the prime minister wants to put the spotlight on tax promises made during his party conference speech a month ago, after four weeks dominated by UKIP, immigration and Europe.
Mr Cameron also takes a swipe at Labour, saying the party would demand an "ever higher" share of private wealth. In a leading article, the Times says this issue is his "strongest card".
"This newspaper welcomes the promise of lower taxation and the economic benefits that it brings. We do not need to look to the future to see the likely consequences of Labour's mansion tax and its plans to increase the top rate of income tax. We only need to look across the Channel to France to see the effects of confiscatory tax."
And in the Daily Express, Communities Secretary Eric Pickles writes that elderly people will get seven-day-a-week health and social care at home, by increasing funding to £5.3bn.
The paper says it is a major victory for its campaign to get improved care funding and for patients to be treated with dignity and respect.
In an editorial, the Express says: "Boosting the amount of money being spent is a necessary step to make sure that people's needs are being met especially given that it is being spent for the benefit of elderly people who have contributed to the system their whole lives by paying taxes. However, simply throwing money at a problem is rarely enough to solve it.
"This is why the government deserves to be commended for the excellent way in which it intends to spend this money on improving care, namely by reducing the bureaucracy elderly people have to deal with, which will make their lives less stressful and improve their chances of getting appropriate care."
---
'Simultaneous doom'
The Daily Mail leads with a warning from the head of schools watchdog Ofsted that teachers need the "resources and capacity to deal with an influx of children from other countries".
The paper calls it a rare intervention by the Chief Inspector of Schools in England, Sir Michael Wilshaw, who has promised to report on the issue soon.
The Mail says his words highlight a critical shortage of places at primary schools - "at which one in five pupils now speak English as a second language".
The Times says Sir Michael said the government was not doing enough to help schools in areas of high immigration.
The Telegraph believes his comments will raise fresh concerns about the impact of immigration "amid mounting pressure on David Cameron to curb the flow of migrants from within the European Union".
Sir Michael claimed children whose first language was not English posed major problems, says the Sun.
Daily Telegraph sketch writer Michael Deacon says David Cameron and Ed Miliband tied themselves in knots when they debated immigration at Prime Minister's Questions - "and the big winner is one N Farage".
"Since polling suggests the subject is a vote-loser for both of them, it was a bit like watching two men wrestling each other at the top of a cliff, before rolling angrily over the edge to their simultaneous doom," he writes.
"It turned out that Mr Cameron and Mr Miliband agreed on only one thing about immigration: namely, that the other should apologise for it."
John Crace's sketch in the Guardian says UKIP's Santa has come two months early: "A couple of weeks ago Nigel Farage got his first Member of Parliament: At Prime Minister's Questions he appeared to have 650.
"There's only one thing on the mind of both parties at the moment: next year's general election. And the race is on to see who can become more UKIP than UKIP. Who do we hate? Immigrants. When do we hate them? Now."
"Ed Miliband, Nick Clegg and David Cameron can never out-UKIP Nigel Farage and should never try," states the Daily Mirror. "They must challenge poisonous prejudice, not encourage it.
"It is not racist to talk about immigration but racists talk about little else. The most explosive social issue of them all requires a hard-headed debate and participants should avoid scapegoating and scaremongering."
Peter Brookes's cartoon in the Times, meanwhile, depicts horror cut-out masks of Mr Cameron, Mr Miliband and Mr Farage, with the captions: "Frighten a foreigner for Hallowe'en! Instructions: Cut out, attach elastic, knock on an immigrant's door..."
---
Not cricket
Yesterday the papers were telling us we would be eating strawberries until Christmas because of the fine weather conditions over the past few months - now the Daily Telegraph uses the same spot on its front page to warn there is a shortage of pumpkins for Halloween because they have been rotted by heavy rain in the north of England.
The paper says some suppliers have lost 70% of their crops in one of the worst pumpkin harvests in more than a decade. Supermarket giant Morrisons said it was taking emergency measures to source more pumpkins by tomorrow.
The Times reports that the boss of John Lewis has said shoppers can look forward to price cuts on coats, hats and jumpers within weeks if Britain's balmy autumn continues.
"Unseasonable high temperatures have caused a slump in sales as retailers struggle to persuade consumers to buy clothes designed for chilly days," says the paper.
The business's managing director Andy Street told the Times there would be "more red tickets going down Oxford Street" if the conditions persisted, with shops sweating over excess stock.
Finally, the Daily Express reveals that England's 1966 World Cup final hero Sir Geoff Hurst nearly opted for cricket.
The Express says he came close to quitting football four years earlier, admitting he was so passionate about the summer sport that he regularly missed pre-season training with West Ham to play for the Essex 2nd XI.
The Daily Mirror goes with the headline "They think it's all overs...", referring to Kenneth Wolstenholme's famous commentary as Sir Geoff scored the match-clinching goal against West Germany at Wembley.
---
Making people click
Times: US dismisses Netanyahu as a coward
Telegraph: Three glasses of milk a day can lead to early death, warn scientists
Guardian: Nato jets intercept Russian warplanes
Independent: "Nasa Confirms Six Days of Darkness in December": No, they don't - it's a hoax
Mail: As Kara Tointon and Artem Chigvintsev break up, Femail delves into the Strictly couples who lost their spark and those who are still going strong