Newspaper headlines: 'Farewell' Alfie and Tory 'sex probe'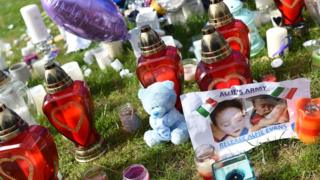 The home secretary is traditionally seen as one of the most difficult jobs in government - and the Sunday Times feels that Amber Rudd is now hanging on by a thread.
Looking ahead to her House of Commons statement on Monday, the paper argues that she needs to be authoritative and display a command of her briefing or, it concludes, she will be out.
The Sunday Mirror says that after being forced to make five public apologies last week, it is time for Ms Rudd to go.
Mayor of London Sadiq Khan, writing in the Observer, has also called for Ms Rudd to resign.
The Mail on Sunday believes her handling of the Windrush saga has not inspired confidence and she now looks a diminished figure.
The Sunday Telegraph urges the Conservatives to make amends for Windrush. The first thing they must do, suggests the paper, is to admit that the Home Office is not fit for purpose.
The Sunday Times highlights what it calls the first evidence of Russian attempts to influence the result of the last general election.
It says its research, in conjunction with Swansea University, discovered how more than 6,000 Russian Twitter accounts rallied behind Labour before the poll.
Brexit tension
Tensions at the heart of government over the Brexit negotiations are highlighted in the Mail on Sunday.
The paper reports that Brexit Secretary David Davis has demanded the resignation of Theresa May's chief negotiator, Olly Robbins, who is said to be trying to drive through plans for a new customs partnership with the EU.
The Times says Mr Davis has told the prime minister that she should ignore Mr Robbins and start listening to the cabinet.
Get news from the BBC in your inbox, each weekday morning
The Sun feels the tragic death of Alfie Evans has touched the nation. It thinks there are real questions to be asked about who has the final say on treatment for terminally-ill children.
The Sunday Mirror acknowledges that his parents' actions and the authorities' decisions will divide people, but it also believes it is not the right time to examine what happened.
Supermarket merger
There is much analysis of the proposed merger between Asda and Sainsbury's.
For the Sunday Telegraph it makes a lot of sense, and would be a neat exit for Asda's American owners, Walmart.
The Financial Times says it comes at a time when retailers and grocers around the world are facing immense pressure from Amazon, which recently acquired the Whole Foods chain.