Newspaper headlines: 'Green light' for grammar schools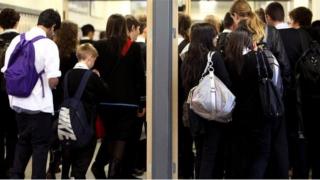 The government's decision to put £50 million towards providing more grammar school places divides opinion.
For the Daily Mirror, it is a "scandal" that has been "blasted" by union leaders angry that selective education is getting more money while comprehensives face cuts.
Education Secretary Damian Hinds tells the Daily Telegraph it will enable grammars to "widen the net" to include more children from poorer backgrounds, possibly by lowering the pass marks they need to achieve in the entrance exam.
The Daily Mail hails the expansion scheme as a "new dawn" that is "making good on the Tories' pledge to increase choice for parents".
The Grammar School Heads Association tells the paper that many of its members have been "keenly awaiting" the announcement and have already begun prioritising applications from disadvantaged youngsters.
The school admissions campaign group Comprehensive Future complains to the Independent that the policy will allow grammars to get around the ban on building new selective schools by permitting them to create annexes - often on completely separate sites.
'A Pandora's box'
The exchange of fire between Israel and Iranian forces in Syria sparks fears of a new conflict in the Middle East.
Patrick Wintour, writing in the Guardian, suggests the events reveal "how much has been uncorked by Donald Trump's decision to quit the Iran nuclear deal" and vindicate a warning by Emmanuel Macron that Mr Trump risked "opening a Pandora's box which is tantamount to war".
Con Coughlin, for the Daily Telegraph, believes Russia may have to use its "uneasy alliance with Iran" to persuade the Iranians to cease their aggression.
The Israeli newspaper Haaretz says intelligence chiefs have said another round of strikes is unlikely.
It says security has been "beefed up" at Israeli embassies, for fear of reprisals, while 60-80% of hotel reservations in the Golan Heights have been cancelled by tourists fearful of war.
Three leading cardiologists call in the Daily Express for a tax on sugary food insisting that it could end Britain's obesity and Type Two diabetes epidemics within three years.
The doctors are urging the Department of Health to introduce new food labelling for sugar and a ban on adverts for sugary drinks.
They say the government "should not wait decades" to deal with the crisis.
The husband of Dame Barbara Windsor offers more details about her struggle with Alzheimer's in the Sun.
Scott Mitchell reveals that she often forgets they're married and thanks him for coming to look after her.
Christopher Biggins, who has known her for 40 years, tells the Daily Mirror that she is "still great fun and looking gorgeous" and that it is up to her friends to help remind her of her "glorious career" and why people love her.
The Daily Telegraph reports that the Environment Secretary Michael Gove has expressed concern that the EU will use the Northern Ireland border issue to "hold the UK hostage" and keep it in the single market and customs union.
Mr Gove is said to have told a private dinner of Tory Eurosceptics that Britain may be unable to secure a customs deal with Brussels and may be forced to accept their "backstop" option of full alignment with EU rules to avoid a hard border.
The Spectator columnist Lionel Shriver urges Theresa May to tell Michel Barnier that the Irish border is his problem to solve, suggesting that "whatever happens on the Republic's side is the EU's business", not Britain's.
Get news from the BBC in your inbox, each weekday morning
The Independent publishes a leaked letter from Labour's Northern Irish sister party, the SDLP, to all of Jeremy Corbyn's MPs, warning them that his current approach to Brexit will not prevent a hard border with the Irish Republic.
The party urges Labour to back a plan to stay aligned with the single market which Mr Corbyn himself has refused to support.
Conservative rebels are reported to have enough MPs to push through an amendment on remaining in the European Economic Area if Labour votes with them.
'Crisis of cosmic proportions'
The Guardian warns of a "crisis of cosmic proportions", as scientists reveal that the universe is expanding nine per cent faster than it ought to be and they aren't sure why.
The paper says new data from the European Space Agency's Gaia mission contradicts previous calculations based on light released shortly after the big bang throwing out all former suppositions about the age, composition and fate of the universe.