Trending: Boris Johnson's Twitter hashtag 'hijacking'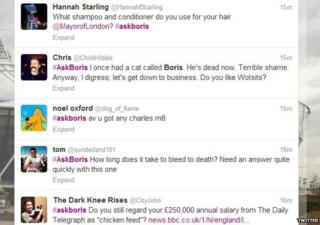 London Mayor Boris Johnson is the latest big name to fall victim to a hashtag "hijacking".
The outspoken former Conservative MP, who has 820,000 Twitter followers, invited an hour of questions on Monday using the hashtag #AskBoris. More than 2,500 piled in and, while some focused on policy issues - London's airport capacity, housing and public transport - many joked about Johnson's hair, previous gaffes or favourite death metal band.
Johnson seems to have kept his cool. Asked whether he would "get stuck on a zip wire again to boost the country's feelgood factor" - as he did during the London 2012 Olympics - the mayor tweeted: "I will do if it helps to build at least 42k homes a year for London!"
Previous attempts by major institutions to engage with the public using social media have received similar treatment. Earlier this month, US investment bank JP Morgan offered up vice chairman Jimmy Lee for a Twitter Q&A - only to cancel the session after its #askJPM hashtag was deluged with abuse and derision for its recent legal problems. British Gas prompted a Twitter storm by scheduling a Q&A session on the same day as it announced price rises of nearly 10%. And Ryanair CEO Michael O'Leary sparked ire in his #GrillMOL Q&A by swearing and referencing the Mile High Club.
So can this type of social media slip-up be avoided? Kenyatta Cheese, creative director of Everybody at Once - a consultancy developing audience and social strategy, whose clients include the BBC - has five social media ground rules for big names or brands.
Respect the environment. "Think of each social media as a country, with its own people, language and culture," advises Cheese. "I'm not going to fly to Spain and shout in English inviting people to a dinner party at 5pm."
Social media is about conversation, not just content. Do not mistake follower numbers for audibility: Twitter users can talk back and, when hashtags are concerned, they can be heard as clearly as big names.
Steer clear of titles that can be exploited, as when a Susan Boyle album release was promoted with the hashtag "#Susanalbumparty", one reading of which is Susan Album Party, but another of which is ruder.
Understand the risks: If there is controversy around you or your company, the hashtag may become a magnifier for that controversy. Be ready for that.
Be true to your brand guidelines but understand they may have been written without social media in mind and may need to be adapted in a rapidly changing environment.
Reporting by Michael Hirst