Trending: Sachin Tendulkar - the man with 3.5 million tweets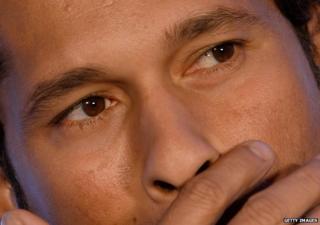 India has seen what appears to be a spontaneous outpouring of emotion under the hasthag #ThankyouSachin. But how do hashtags like this really come about?
There's no doubt how passionately many people in India feel about the retirement of cricket legend Sachin Tendulkar. Cast a quick eye over some of the millions of tweets, and the strength of feeling is abundantly clear.
"God of cricket retires," writes one. "You might have retired from cricket, but you will never retire from our hearts! #ThankYouSachin," tweets another. When Tendulkar himself responded via his Twitter account to thank his fans for their support, his message was retweeted 17,000 times.
The sentiment seems spontaneous - and indeed the hashtag did start that way. The very first tweet using #ThankyouSachin appears to have been from a lawyer and editor in Delhi, four years ago. A few isolated tweets followed, but it took off dramatically at the start of November this year.
Big businesses or organisations often seize the opportunity to hop on and ride the wave when there are signs of a simmering trend. In this case, it was actively promoted by the Board of Control for Cricket in India (BCCI) - which is running a live count of the tweets - and by Twitter India via its blog.
Those who used the hashtag, together with the cricket board's Twitter handle @BCCI and a message for Tendulkar, were rewarded with a personalised "digigraph" - or digital autograph. Though the push may have come from on high, rather than from the grassoots, it quickly became a huge phenomenon in its own right.
"After a few days, people forgot about the BCCI," says Vikas Pandey with BBC Monitoring in Delhi. "The words were so apt - it was essentially the message people wanted to give." Many in India feel an intensely personal relationship with Tendulkar, he says - identifying with his struggles and victories almost as if they were their own.
Twitter says although they supported the hashtag, they didn't initiate it or run any advertising around it. But just like the Indian cricket board, they may well be basking in something of a "halo effect" now, says Ronan Shields, a reporter with Marketing Week. "Being part of a cultural phenomenon is really good for Twitter," he says - and India offers huge opportunities for growth.
Update:
Aju John, who appears to have been the first person to have used the hashtag #ThankyouSachin - back in September 2009 - says it originally had a distinctly tongue-in-cheek slant. At the time, he told the BBC, it was often used to poke fun at the way young cricketers in the team would consistently thank Tendulkar for their own performances on the pitch - and was a big joke in the blogging community.
"It started really as a way of taking the mickey," says Gaurav Sethi, founder of the blog Bored Cricket Crazy Indians. He says he first used the "Thank you Sachin" concept in a cartoon he drew for the blog in February 2009.
Reporting by Cordelia Hebblethwaite