#BBCtrending: How #findmike became #foundmike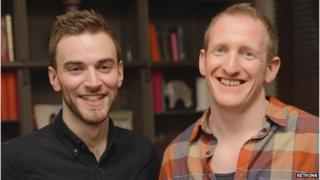 The hashtag #foundmike is trending in the UK after a man who nearly took his own life was reunited with the passer-by who saved him six years ago.
In 2008, Jonny Benjamin - then aged 20 - considered killing himself. He was on the ledge of Waterloo Bridge in London, when a stranger stopped and talked to him, and offered him a coffee. Benjamin says this intervention saved his life. Six years later, Benjamin, who now works as a mental health campaigner, decided he wanted to try to track down the man to thank him.
He teamed up with the mental health charity Rethink, and - although he couldn't remember the name of the man - started the hashtag #findmike on 13 January. It took off. There were more than 46,000 tweets using the hashtag, mostly in the UK, but also from around the world - everywhere from the US, to Argentina to Germany, Australia and Thailand. "To be completely honest, I didn't expect to find him," Benjamin told BBC Trending. He was so shaken on the day that he couldn't remember what the man looked like or his name. "It was like finding a needle in a haystack," he says.
Neil Laybourn - who had been on his way to work that day in 2008 - was alerted to the story by his fiance, who read about it on Facebook and the two men met on Tuesday (you can watch their reunion here). Since the news broke in the early hours of Thursday, the hashtag #foundmike has begun trending in the UK - with more than 2,000 tweets by the time of publication.
When he considered taking his life, Benjamin had just been diagnosed with schizophrenia and felt he'd been dealt a "life sentence". He says hopes his story will raise awareness about the condition - and give hope to others.
You can read more about the story here. Jonny Benjamin and Neil Laybourn were guests on The World at One on BBC Radio 4. You can listen here.
Reporting by Cordelia Hebblethwaite
All our stories are at BBC.com/trending