#BBCtrending: Did Between Two Ferns really help Obamacare?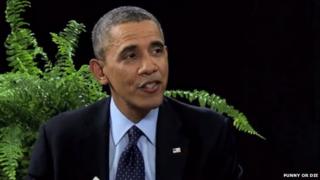 With too few young people registering for President Obama's beleaguered healthcare plan, the most powerful man in the world subjected himself to a self-deprecating online interview. Twenty four hours later #BBCtrending asks if it has had an impact?
The video was meant to go viral, and it did. President Obama's interview with comedian Zach Galifianakis, in which he was jokingly asked why Dennis Rodman was sent to North Korea as an ambassador, has already been viewed more than 12 million times. The title of Galifianakis' series "Between Two Ferns" has been tweeted more than 63,000 times.
But President Obama did this for more than clicks alone. "Let's get this out of the way, what did you come here to plug?" asked Galifianakis in the interview, cueing a discussion about the Affordable Care Act - Obama's plan to ensure that all Americans have health insurance cover. For months, there's been anxiety that young people have not been signing up, or procrastinating about doing so. All of which helps explain why the world's most powerful man made time for an interview with the star of The Hangover movies - on a web video series wildly popular with young Americans.
Early signs are that the ploy seems to be working. Tara McGuinness, a Whitehouse communications advisor tweeted that FunnyorDie.com, the site which hosted the video, "is the #1 source of referrals to HealthCare.gov right now". And the official Twitter account of Healthcare.gov - the site where people can enrol for insurance - has said it received almost a million visits on Tuesday, up 40% from the previous day. The decision to make the appearance will have been carefully weighed up by Obama's team, and "rooted in data which proves that these things work", according Alec Ross, a former digital advisor to Hillary Clinton.
Scott Goodstein, a former advisor to the president, thinks he made the right decision. "If you're going after independent non-political people, comedy cuts through," he argues. Of course, the true impact of the interview is harder to measure than simple referrals to Healthcare.gov, and its full effect will not be known for some time. Goldstein foresees the video having a "ripple effect" as it continues to be shared online, and says "it will drive traffic for weeks or months".
Reporting by Sam Judah
Have you subscribed the BBC Trending podcast? You can do so here via iTunes or here
All our stories are at BBC.com/trending