#BBCtrending radio: Racism in Tokyo, and 'sexism' in Delhi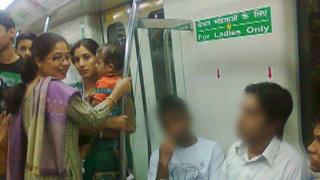 On the latest #BBCtrending radio, we take you to the streets of Shin-Okubo, a part of Tokyo known as "Korea Town".
Our presenter Mukul Devichand speaks to anti-racism activists who've been mapping the spread of anti-Korean graffiti, and to the BBC's Mariko Oi about the rise of the "netuoyo" or online nationalists.
We have more on the photo of men sitting on ladies seats, which we spotted going viral in India earlier this week - featuring Rupa Jha of BBC Hindi.
And of course, because it's #BBCtrending radio, there's plenty of fun in the studio, with an off-beat discussion about two world leaders, and the dulcet tones of producer Michael Wendling.
We are on BBC World Service radio at 11:30 GMT on Saturday - but to make sure you don't miss us, subscribe to the podcast on iTunes here, or on the web and other platforms here.