#BBCtrending: Police leave polite note in drugs bust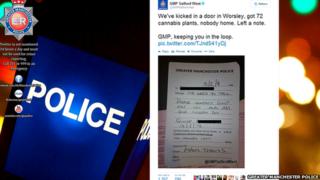 The Trending Team is, as ever, keeping an eye on stories trending around the globe. Here's a selection of the trends that have caught our eye.
'We need to talk'
Police in the UK have taken a "social" approach to fighting crime. Nobody was home when Greater Manchester Police carried out a drugs bust in a house and found 72 cannabis plants. So they left a note (above) and posted it to Twitter. It said "We need to talk. Unfortunately you were not at home and have no cannabis left." It is not known if anyone ever came forward, but the tweet has been shared almost 2,000 times.
Holy water?
Does water used to wash the feet of a political leader carry spiritual properties? That's the debate happening online in Indonesia after this image (below) went viral. The man is drinking water from a basin used to wash the feet of Indonesia's former president and opposition leader Megawati Sukarnoputri. Many have expressed their distaste for the practice, calling it "disgusting" and saying "yuck!". The man pictured told local news media that he was determined to wash Megawati Sukarnoputri's feet and his dream has now been accomplished.
Poland's Eurovision dream
Remember our video about Slavic cultural cliches? Well, an English version of the song My Slowianie - Us Slavs - has been selected as Poland's entry to Eurovision 2014. The song is a collaboration between the Polish rap artist Donatan and the singer Cleo.
Belly-dancing 'model mum'
Egyptians have been discussing whether a well-known Egyptian belly dancer should have been awarded the title of "model mother". Although Egypt is famous for belly dancing, many Egyptians regard belly dancing in public as inappropriate. The name of the belly dancer - Fifi Abdu - has been trending on Twitter in Egypt.
Skin lightening in India spoofed
There are all sorts of skin lightening products on the market in India - it's big business. But an Indian comedian, Varun Thakur, and a company called Culture Machine have made a spoof advert mocking India's obsession with the creams. Their video jokes about a testicular skin lightening cream for men, and has been viewed more than 200,000 times. There are similar creams on the market for women. We'll have more on this story soon.
Compiled by Anne-Marie Tomchak
Has the skin lightening business in India gone too far? Can you be a belly dancer and a "model mum"? Get in touch with us on Twitter @BBCtrending or email trending@bbc.co.uk