#BBCtrending: The satirist and the anti-Semites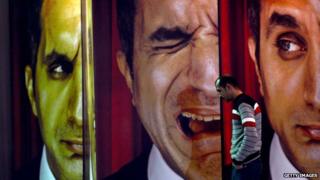 The satirist Bassem Youssef - seen by many as Egypt's answer to Jon Stewart - has recently been accused of plagiarising someone else's work, triggering a Twitter storm that ended with racist abuse being hurled at an unwitting Western journalist.
Youssef's popular television programme - El Bernameg - is reminiscent of Stewart's Daily Show, and his pointed political satire has often led to friction with the authorities. Now an article published in his name has caused a furore on social media, and highlighted an ugly side of Egyptian public opinion.
It all began when he submitted an article to Al-Shorouk, an Egyptian newspaper. Entitled "Why Putin does not care", the piece was a comment on the events unfolding in Russia. Although it was written in Arabic, sharp-eyed Twitter users spotted striking similarities to a piece called "Why Russia No Longer Fears the West," by British writer Ben Judah. Dr Youssef was quick to apologise. He posted a correction to the article crediting Judah, and blamed "work stress" for the oversight.
Judah himself took the incident in good spirit. "Last thing I expected to happen today would be to be involved in an Egyptian media scandal" he tweeted, and later added "I accept @DrBassemYoussef apology." He also said "Egyptians! Free media essential @DrBassemYoussef does important work. We all make mistakes".
Although Judah's messages seemed good natured, they prompted a wave of anti-Semitic tweets from Egyptians, apparently because of his Jewish surname. Most had nothing to do with his original article, or his interaction with Youssef, but were aimed instead at trolling the journalist - one sent him a picture of Adolf Hitler, for example. A number of Egyptians have now sent messages of apology. One of them, Nervana Mahmoud, said the anti-Semitism was accompanied by similar abuse against Youssef, for plagiarising not just anyone, but someone Jewish. "The knives are out for Bassem Youssef, and they think they finally got him."
Judah tweeted: "Dear Egyptians! I was victim of stolen article, I accept apology, forgive man, I explain I believe peace and I get mass hate? Very uncool." Youssef, whose mistake set events in motion, is yet to comment on the affair.
Have you subscribed the BBC Trending podcast? You can do so here via iTunes or here
All our stories are at BBC.com/trending