#BBCtrending: #DirenAmasya - Turkey's latest Gezi-style protest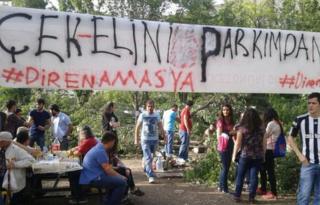 What is it about Turks and trees? Almost a year after civil unrest over Gezi Park in Istanbul, a similar protest hashtag is trending in Turkey.
The Gezi Park protests began in Istanbul over plans to knock down trees and build over a park in centre of the city. They spiralled into social unrest that brought millions onto the streets and into conflict with authorities. Now, protestors in the city of Amasya - in the north of the country - are staging a similar demonstration. They're holding a "tree watch" to try to save 137 trees in a park - often used as a picnic spot - against plans to build a petrol station.
Late on Tuesday night, the hashtag #DirenAmasya began to trend. It was first used by local residents, but was quickly picked up across the country. Turkish actor Firat Tanis is among those who have lent their support. "Diren" means resist, and was used in one of the biggest hashtags during Gezi Park - #DirenGezi, used around two million times on Twitter.
"Resist the government that is in love with real estate and concrete," reads one of the tweets on the #DirenAmasya hashtag, which has been tweeted more than 80,000 times so far. "This country has never witnessed such hatred against green," is another. Many point out that Thursday June 5 is World Environment Day.
In this case, while the hashtag has gone national, the protests themselves have so far remained small-scale and local. There has been a "construction craze" in Turkey, and this has caused tension in many places, says London-based Turkish analyst Ziya Meral. But, he says, the fact that a local issue has trended nationally shows just how politicised - and polarised - social media in the country has become.
Twitter, in particular, is split down the middle between people who are pro and anti-government, he says: "There's an intense social media clash. There's no space for nuance or discussion." Each side, says Meral, latches on to stories they feel support their case, and then aggressively push for them to trend. Presidential elections are due to be held in Turkey on 10 August, and this has further upped the ante.
So that's why a city in the north of Turkey - normally most famous for producing apples - came to trend nationally. Construction is due to start on Istanbul's third airport in the next few days, and this - says Meral - could prompt another wave of political hashtags. More than two million trees will be cut down.
Reporting by Cordelia Hebblethwaite
You can follow BBC Trending on Twitter @BBCtrending
All our stories are at bbc.com/trending