#BBCtrending: #SaveYakubuYusuf - using Twitter to raise money in Nigeria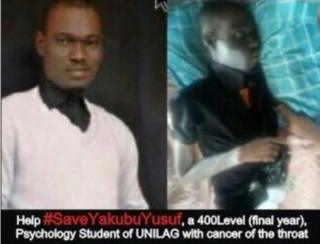 Nigeria is renowned for online scams - but not so well known is how widely social media is used by friends and family to fundraise in genuine cases of medical need.
The hashtag #SaveYakubuYusuf has been used more than 6,000 times in Nigeria in the past week. People are calling for donations for 29-year-old Yakubu Yusuf, a psychology student at the University of Lagos, to pay for him to travel to India for treatment for throat cancer. They're looking for seven million naira ($43,000; £25,000) and are asking people to pay the money into his mother's bank account.
If you encounter a tweet or Facebook post that comes complete with a plea for help, an emotive image... and bank details, you could be forgiven for raising a sceptical eyebrow. Especially when the country in question is Nigeria, which has a well-deserved reputation for online scams.
But this case is 100% genuine. One of his friends has made a video showing Yusuf in hospital, and others have lobbied influential figures on Twitter to try to get support. "We can't beat this on our own - we are students," says Ishola Ebenezer, one of those coordinating the campaign. "Time is not on our side."
One of those who's been contacted for help is Japheth Omojuwa, a well-known Nigerian blogger with almost 130,000 followers on Twitter. He's worked on many Twitter fundraising campaigns in the past. #SaveYakubuYusuf is the latest in a series of trends in the country, which have seen friends and family crowdsource funding for medical treatment, he says.
One of the most high-profile was #SaveOJB - to raise money to for a kidney transplant for music producer OJB Jezreel. #SaveBabyKenny was another - this time for a baby with a hole in her heart.
Though many of the social media campaigns have been successful, they shouldn't have to happen, says Omojuwa. "The underlying reality is of a failed society, of a failed system," he says.
"I come across this two or three times a week," says Ronnie Jacobs, founder of Cancel Cancer Africa, which aims to set up four "centres of excellence" on cancer in Africa. Many cases - like this - are genuine, but it pays to be vigilant. "It does happen - there are people who use other people's illnesses to raise money for themselves." He recommends anyone fundraising should team up with a recognised cancer charity to collect the money.
In the UK, there have been some hugely successful cancer fundraising campaigns on social media - Stephen Sutton raised more than £3m ($5m) for the Teenage Cancer Trust before he died at the age of 19. And - as we reported on this blog - more than £1m ($1.7m) was raised as a result of the #NoMakeUpselfie trend.
Reporting by Cordelia Hebblethwaite
You can follow BBC Trending on Twitter @BBCtrending
All our stories are at bbc.com/trending