#BBCtrending: Muddy noodles and Chinese propaganda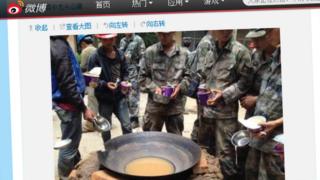 This photograph - of a group of soldiers eating instant noodles - was supposed to instil a sense of national pride in China's citizens. Instead, it caused outrage, and has led to a bizarre string of apologies and denials from two state-owned media giants.
The soldiers were part of a rescue team sent to Yunnan province in the wake of Sunday's earthquake, which has claimed more than 600 lives to date. The picture suggests they had to cook their noodles in dirty water.
The image was seized upon by two government-controlled media outlets: Chinese National Radio and the Global Times newspaper. Both ran reports heralding the soldiers' bravery. These men stood tall in the face of adversity, the stories said, with or without clean water.
But few were impressed. Citizens took to Weibo, China's answer to Twitter, to criticise the government for its amateur performance. "Where is taxpayers' money going? What about the huge annual military expenditure?" asked one, dismayed that soldiers were left without the most basic provisions. "If this happened in a democracy, someone would have to resign," said another.
The furore was embarrassing for the Chinese authorities on two levels. First, the military appeared disorganised and overstretched, despite the vast resources at its disposal. And second, part of its great propaganda machine - in the form of two state-owned media outlets - was made to look out of touch.
And the story does not end there. Perhaps worried about the reaction online, the Global Times quickly backtracked, publishing a new story to say the soldiers were actually well stocked with fresh water. By contrast, China National Radio stood by the original tale. Soldiers had indeed eaten the muddy noodles, they said, even claiming their journalists had eaten them too. Within hours, a senior editor from the Global Times issued a statement saying both versions of the story were true - the soldiers had fresh water but chose to eat noodles prepared by locals, who had none.
Whether the soldiers ate the noodles through choice or necessity may never be known. But the episode has posed far greater questions about how the Chinese government spends taxpayers' money, and whether it can continue to control the political narrative in a social media age. On Weibo, the debate rages on.
Reporting by Sam Judah and Vincent Ni
You can follow BBC Trending on Twitter @BBCtrending
All our stories are at bbc.com/trending