#BBCTrending: Fashion Week trends, charted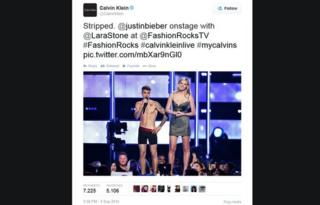 The clothes may have been the main draw, but it was an undressed Justin Bieber who helped catapult Calvin Klein to the top of the social media heap at New York Fashion Week.
The veteran fashion label's Twitter post on Bieber wearing only his Calvin Klein skivvies during the Fashion Rocks show saw the most retweets, at more than 7,000.
Later at the Calvin Klein runway show, nearly 90 bloggers wrote 494 posts and generated 9.7 million impressions, according to data tracked by fashion blogger directory Fohr Card.
"Calvin had a great fashion week," says Fohr Card co-founder James Nord. "They're having a moment."
According to Nord, influential fashion bloggers responded well to the chunky heels seen on the Calvin Klein runway.
"Everyone's loving that right now," he says. "People are talking about that."
But cool shoes and partially dressed celebrities aren't the only things that can impact a fashion house's status on social media.
Location can play a big part, as shows inside the picturesque Spring Studios saw significantly higher engagement impressions than those of the same calibre in Lincoln Center.
The studio's open feel lent itself to Instagram-ready images, Nord says, which can generate even more online buzz.
Marc Jacobs also had a strong social media showing at fashion week, drawing more than 13 million online impressions.
Perhaps more importantly, "Marc Jacobs did the best within the fashion influencer community", says Nord, referring to those his company has determined are most responsible for creating future trends.
Other designers drawing a lot of attention on social media over fashion week included Michael Kors, Alexander Wang, Diane Von Furstenburg, Oscar de la Renta and Ralph Lauren.
But, notes Nord, fashion can be notoriously fickle from season to season.
Last year's second-highest social media draw at Fashion Week, Kate Spade, fell nearly two dozen spots in 2014.
Reporting by Debbie Siegelbaum
You can follow BBC Trending on Twitter @BBCtrending
All our stories are at bbc.com/trending