#BBCtrending: Where is Rahul Gandhi?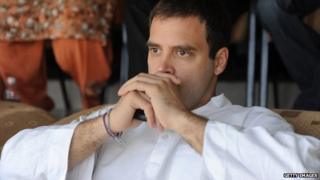 Indians have taken to Twitter to ask: "Where is Rahul Gandhi?"
The Indian National Congress suffered election defeat in two states this weekend - Maharashtra and Haryana. Before the elections, Congress was the biggest party in both.
As it became clear they were no longer going to be able to form a government in those states, social media users turned their attention to senior Congress leader Rahul Gandhi. It's not the first time there's been a "where is Rahul Gandhi?" moment on social media. It happened last May, when Mr Gandhi missed a state function, in the period just before the BJP's Narendra Modi won elections and became prime minister, and also in June 2013, during floods in mountainous Uttarrakhand state.
This time, there have been nearly 7,000 tweets asking "Where is Rahul Gandhi?" with many online sharing memes, and providing comical answers to the whereabouts of the 44-year-old Congress vice president.
What do you think? You can continue the conversation online by tweeting us @BBCtrending.
All our stories are at bbc.com/trending