#BBCTrending: Storm over comedian's slave fantasy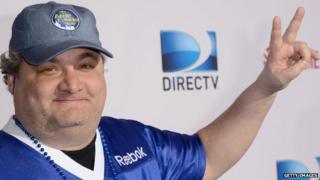 A slavery-themed sexual fantasy tweeted by a well-known comic resulted in him being pulled from the airwaves after after a social media backlash.
In a series of tweets, Artie Lange - best known for his appearances on the Howard Stern Show - imagined himself as Thomas Jefferson and ESPN sports journalist Cari Champion, who is black, as his slave.
Very quickly a wave of protest was ignited, with outraged tweeters using the #isupportcari hashtag to argue his remarks were racist and misogynist.
Many listed venues in which Lange was scheduled to perform, urging that he be dropped.
Champion has not yet commented publicly on Lange's tweets. But her friend and fellow ESPN journalist Jemele Hill tweeted that Lange's remarks were "inappropriate and disgusting" and "Exhibit A in online harassment".
By making slavery the focus of his fantasy he was also "joking about rape". In a statement, ESPN described Lange's comments as "reprehensible" and said no one should be subjected to "such hateful language". It added that the tweets "objectify and demean one of our valued employees under the thin guise of 'comedy' and are offensive to all of us".
Following the backlash, Lange said he would not apologise to the "awful PC groups ruining the country" whom he blamed for the protests. But if Champion had been upset by his remarks "that's another story".
He added: "Let me say to @CariChampion if this hurt u in any way I'm sorry".
But it was not enough to prevent the late-night comedy show @Midnight cancelling a forthcoming appearance. TMZ also reported that ESPN had banned Lange from ever appearing on the network.
There was some backing for the comedian, with supporters tweeting that his comments had been a joke and that he was the victim of political correctness. Later, however, Lange tweeted that he had spoken to a black woman who told her that her life had been threatened by some of his fans.
As a result, he said, he realised that "I have to take jokes like the ones I made more seriously".
Reporting by Jon Kelly
You can follow BBC Trending on Twitter @BBCtrending
All our stories are at bbc.com/trending