#BBCtrending: #WhiteVanGate trends after Emily Thornberry resigns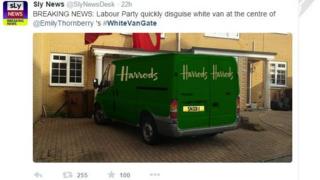 The #WhiteVanGate hashtag has taken off online as web users debate, and poke fun at, Labour MP Emily Thornberry's controversial tweet.
Emily Thornberry's resignation from the shadow cabinet following a tweet she sent of a picture of a house in Rochester with three England flags and a white van parked outside is provoking a lot of discussion online, and also serving as comic inspiration for some Twitter users.
The #WhiteVanGate hashtag has been tweeted almost 3,500 times. Ms Thornberry's original tweet which she posted on Thursday, while voting was taking place in the Rochester by-election, has been retweeted more than 800 times; her subsequent apology more than 300 times.
Reporting by Ruth Alexander
You can follow BBC Trending on Twitter @BBCtrending
All our stories are at bbc.com/trending