#BBCTrending radio: Irish water protests and Egypt's Spiderman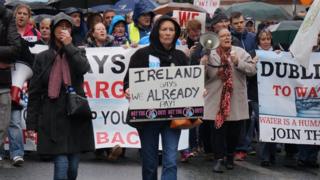 Stream BBC Trending's latest programme or download the podcast.
This week:
Spiderman in Cairo
This week on BBC Trending we hear what happens when a superhero finds himself in Cairo. It's a project from 20-year-old photographer Hossam Atef, who shot videos of his friend dressed up as Spiderman performing everyday tasks - like trying to catch a bus. The joke is that Cairo Spiderman has met his match, because life is so impossible in Egypt that not even those with special powers can function.
Irish water protests
The Irish Government is changing the way people pay for their water and thousands have taken to the streets to protest. Currently most Irish people don't get water bills - it's paid for through taxes. But now the government has set up Irish Water, a semi-state body, which is installing water meters and will start sending bills from 1 January. Online there are numerous videos, tweets and memes calling for the proposed water charges to be dropped. We hear how people have been protesting online, and whether the government is taking any notice.
'Baby, where is your hair?'
And we speak to the man who makes comedy films about relationships - from a male perspective. Top Rope Zeus' spoof about an African-American woman who cuts her hair off and goes 'natural' has had millions of hits on Facebook, but has received mixed comments. We ask him why he made it and how he responds to criticism that it's sexist.
Presented by Anne-Marie Tomchak
Produced by Gemma Newby and Charlotte McDonald.
You can put us in your pocket and listen anytime by downloading our free podcast. We're on BBC World Service radio at 10:30 GMT on Saturdays.