What's funny about the Irish famine?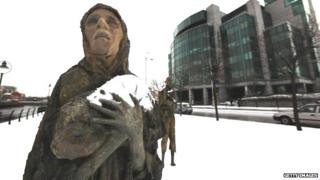 Plans for a comedy series set during the Irish potato famine have hit a nerve on social media. Are some subjects still taboo in a country famed for its dark humour?
Last week it emerged that the British broadcaster Channel 4 has commissioned an Irish writer, Hugh Travers, to pen a television pilot about a subject of his choice. That choice has proved hugely controversial. Provisionally called Hunger, his script is still in development and like many nascent projects, might never be filmed. But the mere suggestion of a comedy based on one of Ireland's bleakest periods has led more than 30,000 people to sign a petition on Change.org.
"I don't want to do anything that denies the suffering that people went through, but Ireland has always been good at black humour," Travers told the Irish Times.
More than a million people died and another two million emigrated during the famine in the mid-1800s, the result of potato blight and exports of food to Great Britain, which ruled the entire island at the time.
"Reducing the Irish famine to comedy is very trite. It's an attempt to trivialise an epic tragedy," Niall O'Dowd, founder of Irish Central, told BBC Trending. "Everything is disposable in this selfie generation. But there are limits to comedy. You can't shout 'fire' in a crowded theatre as a joke. The famine is not a topic for laughter."
On social media there was a mixed reaction. "What exactly is funny about over 1 million people starving to death?!" asked one Twitter user.
Others defended the idea in the interest of freedom of expression.
"Signing a petition that could prohibit Channel 4 from potentially developing a famine-centred sitcom is effectively condoning censorship." tweeted Anna Ni Uiginn.
If Hunger ends up on air, it won't be the first time the famine has featured in television comedy.
The Irish comedian Dave McSavage made this sketch about it back in 2009. It was televised on Ireland's national broadcaster RTE. And perhaps unsurprisingly, he's a staunch defender of the right of comics to poke fun at anything they choose.
"The idea of not being able to talk about the famine through comedy is bonkers. There's no subject off limits. That's like saying history is off limits." McSavage told BBC Trending. "Comedy and laughter is a sign of health and mental well-being. What's important is the context and how it's presented."
McSavage's routines also include jokes about paedophile priests and the Catholic Church. In 2014, RTE pulled the plug on a video he made due to "blasphemous content". It included salacious shots of nuns ogling a scantily clad Jesus.
But the comedian remains defiant about the power of comedy to heal old wounds.
"It's good to open things up. It sounds like the people against Hunger are close-minded nationalists," he said. "Comedy is tragedy plus time. The famine was a tragedy but enough time has passed."
You can follow BBC Trending on Twitter @BBCtrending
All our stories are at bbc.com/trending