How Pakistan feels about Imran Khan's new wife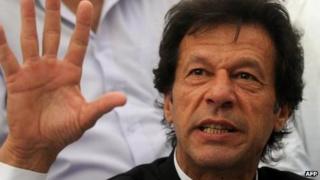 When Pakistan's opposition leader re-married in secret, it was always going to cause a stir.
Imran Khan reportedly confirmed on Monday that he was a married man. He was speaking to reporters at Heathrow Airport before flying home to Pakistan to "share the good news" with the nation.
His countrymen have taken to Facebook and Twitter expressing mixed feelings about his marriage to Pakistan's Dawn News political talk show host and former BBC Weather presenter @rehamkhan1.
#BestOfLuckIK has gained more than 11,000 retweets in 24 hours. But it is battling it out with an outpouring of love for Imran Khan's ex-wife Jemima Khan, with Pakistanis reposting archived photos of her on their timelines.
There are also snipes on Twitter and Facebook at his new wife Reham.
She has hit back on her own Twitter account.
She was quick to comment on photos circulating of her allegedly emerging from a sex shop, which she said were fake and had been photoshopped.
Many archive pictures from Reham's BBC presenting days are circulating on social media along with protracted conversations about the length of her skirt.
Jemima Khan is being 'love bombed' by tweets from Pakistan and has been replying to many of them thanking people for their support.
A sample of those tweets read: Jemima Khan "You will remain respectable as a daughter, sister and mother for millions of #Pakistanis."
"U will remain the First Lady Ma'am. No-one like Reham can replace you!!"
She also tweeted a response to the news of the marriage acknowledging that she will always feel like an honorary Pakistani citizen and wishing Imran happiness. "I'll always love Pakistan," she said.
Imran Khan's only reference to his marriage on social media was this tweet posted on Twitter and Facebook on 31 December. He did not deny it but said reports of his marriage were "greatly exaggerated."
Reporting by Sitala Peek