Irish famine comedy: Your reaction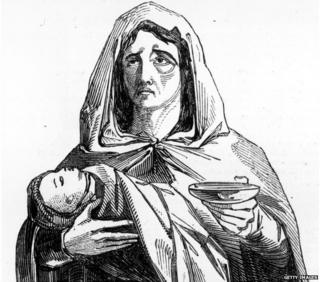 This week we wrote about the uproar over plans by British television network Channel 4 to commission a comedy script about the Irish famine.
Dubbed 'Shameless in famine Ireland' some people weren't too impressed with the notion that one of Ireland's greatest travesties could be the backdrop for a telly giggle.
As expected, the blog generated lots of comments from people saying that the idea was "not funny" and that there were "some sick idiots in the arts today."
But there were also plenty of people who defended the concept and pointed out that it would not be like reinventing the wheel. Well-known British and American comedies like Black Adder, 'Allo 'Allo and Hogan's Heroes were cited as examples where comedy was "a useful way to tell a story and convey pathos."
Some readers even shared jokes about the famine: "well if it's only potatoes you do pay the price for being a fussy eater."
There was also a mix of tweets in the Irish language, which thanks to the Irish contingent of our team we have responded to "as Ghaeilge" (in other words, "in Irish"). And the Irish comedian Dara O Briain (no less!) got entangled in this discussion with Twitter user @CromwellStuff over claims that we're "overpaid idiots at the BBC". O Briain politely deflected a request to produce his birth certificate in order to prove his Irishness, and made it clear where he stood on the possible sitcom.
"It isn't even written yet, so not feeling very outraged," he tweeted.
You can follow BBC Trending on Twitter @BBCtrending
All our stories are at bbc.com/trending