#KillAllMuslims hashtag: Your reaction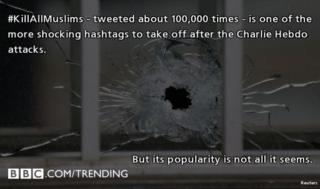 Last week we wrote about one of the more shocking Twitter hashtags to take off after the Charlie Hebdo attacks - #KillAllMuslims (which has been tweeted about 100,000 times) - but the hashtag's popularity was not all it seems.
As we revealed, the trend was really propelled by tweets by Muslims and others against the violent message. Nearly all of the most retweeted messages using #killallmuslims were actually criticising the sentiment. Our blog on the hashtag had many responses from around the world, with many outraged the hashtag was trending at all - which is what we expected to happen.
But what was interesting was how Muslims and others ended up having a debates online, using our blog post as a point of departure. It began with Muslims who said their faith was being misunderstood. "Here in Pakistan our army is fighting against terrorist, we don't even call them Muslims so don't blame Muslims" one tweet read "We Muslims believe in humanity first" wrote another tweeter, "We don't see people as a religion but humanity! #peaceplease". But others were skeptical. "Sounds nice but it's not what we can see here in Europa. We believe in love and understanding" was one tweet in response.
One reader rightly pointed out that the hashtag #RespectAllMuslims, was the No 1 Trending hashtag in the world, ahead of #KillAllMuslims. The hashtag has had nearly 500,000 tweets since last Wednesday.
Reporting by Ravin Sampat
You can follow BBC Trending on Twitter @BBCtrending
All our stories are at bbc.com/trending