Why we're telling #FreeSpeechStories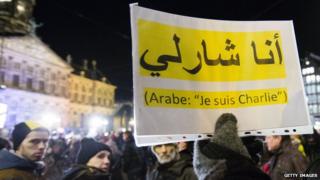 Am I free to offend you?
Should I deliberately share images that I know will offend others, as a statement of everyone's freedom to do so?
What about extremists? Should their speech be banned?
Questions like this have been dominating social media conversation in the days since the satirists of Charlie Hebdo were attacked and killed. We at BBC Trending tracked down the creator of the slogan #JeSuisCharlie, who told us the slogan is a way of declaring: "I am free, I am not afraid." More than 7m people have now used the hashtag on Twitter; a million more have used it on Instagram. There have been more than 60,000 YouTube videos using the slogan, not to mention countless Facebook discussions between friends and more than a few songs.
That's a lot of people rallying behind free speech.
But it wasn't long before much of the debate online became angry and polarised, and people began asking searching questions about freedom of expression in their own countries. There's been a spate of "Je Suis" hashtags for all sorts of other free speech causes around the world, along with accusations of double standards and strong reactions from Muslims about the new edition of Charlie Hebdo.
Over the coming weeks, we will be monitoring conversations about the limits of free speech - and telling these #FreeSpeechStories in videos, on our blog and on our radio programme. We want to hear from you about your own #FreeSpeechStories and which debates we should cover. Tweet us - no matter what your view.