#FreeSpeechStories: Has Martin Luther King been 'sanitised'?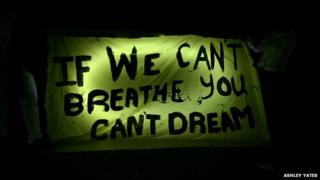 Attention Americans, now enjoying a day off thanks to the federal holiday for Martin Luther King, Jr Day. If you're reading this on your phone while waiting in queue for brunch, you're doing it wrong.
So say the activists behind the #ReclaimMLK day hashtag.
Many have organised three days of protests, culminating today, calling attention to racial disparities in the US and hoping to inspire action like that taken by King during his days as a civil rights campaigner.
"Somewhere between his assassination and today began an MLK-neutering campaign meant to turn the famed agitator's holiday into a national Day of Service, a generic mishmash of good feelings that contorts King's social-justice legacy into a blissful Hallmark card of post-racial nothingness," writes Danielle C Belton on the Root.
Those using the #ReclaimMLK day tag are instead interested in direct and specific action to end racism in the US, and call attention to systematic problems they say are still plaguing minorities in America.
That's why some protesters in St Louis disrupted a cafe over the weekend chanting "No Justice, No Brunch."
Similarly, one of those protesters active in the demonstrations in Ferguson, Missouri, Bassem Masri, tweeted, "#MLK was arrested 30 times during the civil rights movement, true patriot who was unafraid of the system he battled it head on #ReclaimMLK."
In Oakland, California, people gathered outside the home of Mayor Libby Schaff because, they say, she has been too supportive of the police. They projected quotes from America's most eminent civil rights leader on to her garage door.
While some are using the hashtag to get people on to the streets, others are using it simply to share facts about Dr King's life and shed his "sanitised" image.
"Let's not try to pacify his radicalness and for now on speak truth about his legacy. Uncompromising. Radical. Strategic." wrote Dante Barry.
"#ReclaimMLK Rev Dr Martin Luther King was a revolutionary. He rejected the (racist) status quo & made white people feel uncomfortable," wrote DNLee, a biologist in Ithaca, New York.
Jenifer Daniels, a marketing expert from Charlotte, North Carolina, has been tweeting excerpts of Dr King's "Letter from Birmingham Jail", concerned that his legacy has become too focused on his "I Have a Dream" speech.
She told the BBC that King's image is also too often used for commercial purposes.
"Martin Luther King is today is seen as - unfortunately - an opportunity for co-opting. A lot of brands, for some odd reason, were tweeting voraciously during 2014 using the hashtag as an opportunity to sell their wears, to talk about sales they were having at their stores."
But there are plenty who believe the day set aside to honour the Atlanta pastor, and the litany of community events taking place across the US, is a fitting way to mark his work.
A White House statement said: "The Dr Martin Luther King Jr Day of Service is an opportunity for all Americans to honour Dr King by coming together to help meet the needs of their communities."
Reporting by Kate Dailey and Paul Blake
You can follow BBC Trending on Twitter @BBCtrending
All our stories are at bbc.com/trending