Nepalese pretend to bust furniture in #SmashChairChallenge protest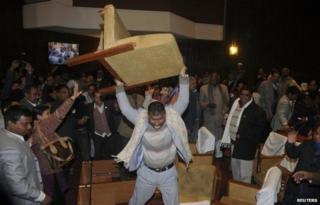 Imitation is not always the sincerest form of flattery, especially if you happen to be a lawmaker in Nepal.
Hundreds in the country have posted pictures with hashtags #smashchairchallenge and the slightly misspelled #smashchairchallange, pretending to raise a chair as though to smash it into the ground. The pose imitates the chaos in the parliament last week where opposition lawmakers threw chairs as tensions rose ahead of a deadline to draft Nepal's new constitution.
As repeated deadlines have been missed, social media users are using the challenge to urge members of the country's parliament to get on with drafting a new constitution.
Writer Brazesh Khanal came up with the idea along withsomefriends after feeling shocked at the outbreak of violence in the country's Constituent Assembly. They see the #smashchairchallenge as a satirical, silent protest against the political impasse in the country.
"We might lift a chair and threaten to smash it, but we don't actually believe in violence. This was done to catch people's attention so that such brawls do not happen again," Khanal told BBC Trending.
"This is not a fight against any political party but against violence and it is also to encourage the members of the Constituent Assembly to come to a conclusion about the constitution in a peaceful manner. It has been lingering for a long time."
Political parties have not reacted to the social media challenge, but members of the public have been posting their pictures on Twitter, Facebook and Instagram. "Accepting #SmashChairChallenge a great satire and symbolic tight slap to coward #CAMembers involved in this vandalism," read a one tweet, while another called for a more aggressive approach, "I am not for #SmashChairChallange, but for #SmashPeopleChallange who are protesting in the road and blocking road even today."
And what explains the two slightly different hashtags? The hashtag #smashchairchallange - spelled with an "a" - was intended as a deliberate typo.
"We thought it would be symbolic to show what is happening is a mistake," says Khanal.
Reporting by Samiha Nettikkara
Next story: Your #Blizzardof2015 social media survival kit
You can follow BBC Trending on Twitter @BBCtrending.
All our stories are at bbc.com/trending