Arrested for tweeting: Your reactions #FreeSpeechStories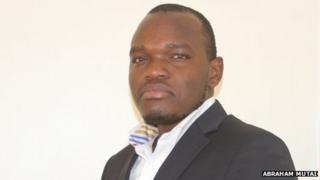 Last week we heard the story of Kenyan blogger Abraham Mutai, part of our #FreeSpeechStories series. Mutai was arrested for tweeting about his latest investigation into what he says is government corruption. A campaign to #FreeMutai trended on Twitter and the discussion continued days after his release. Lots of you also got in touch with us directly.
While we were interviewing Mutai for our radio programme (which you can hear here) we received plenty of questions for him via our Twitter page. "Are you a journalist or a paid blogger?" asked Twitter user Mr Keep, who describes himself as a social media analyst.
For the record, Mutai had this to say: "I'm not a trained journalist, but you don't have to be a trained journalist to be a blogger."
Others wanted to know what Mutai's next move would be with questions like: "do you feel safe and able to continue exposing corruption?"
The full interview is really worth a listen - the story starts about 11 minutes into our weekly radio programme.
In keeping with the campaign to #FreeMutai, Twitter users were overwhelmingly supportive of the blogger. We got quite a few emotional tweets from those who were sorry to hear him say he was now living in fear. "This frightens me, as well. My thoughts are with @ItsMutai and other freedom of speech bloggers" said one. "Kenya is sinking lower and lower on free speech. #FreeSpeechStories. I'm disappointed that Mutai is now afraid," said another.
During our coverage of Mutai's case we noticed several tweets criticizing the Kenyan government. Many alluded to controversial new security laws and said they were curbing free speech - although the government says the new laws are necessary to fight terrorism. People also shared their experiences of censorship from other parts of the world including Latin America and Canada.
Blog by Anne-Marie Tomchak
Next story: Why was one death singled out in Egypt?
We want to hear your free speech stories no matter where in the world you are. Have one? Get in touch with us using the hashtag #FreeSpeechStories.
Watch videos on our YouTube channel or follow BBC Trending on Twitter @BBCtrending.
All our stories are at bbc.com/trending