These hardcore tweeters are still marking each day with 'Page X'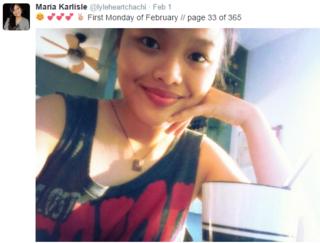 Last month on BBC Trending we wrote about the odd trend of social media users comparing each day of 2015 to the pages of a book.
As predicted the numbers dropped off as precipitously as New Year's resolutions - from nearly half a million on 1 Jan to fewer than 1,000 on Page 33 (that would be 2 Feb).
So who are the people drip-tweeting inconsequential thoughts, daily activities and inspirational messages?
We contacted a few and asked them why they're still turning the page.
"There is a lot of negativity in our daily lives," said Chelsi Schoeppey of Arkansas. "I thinks it's nice to have at least 1 daily dose of positivity."
"Tomorrows page isn't guaranteed," said Mike Kane.
Most of the people we spoke to planned to carry on for the rest of the year, although Atikah from Malaysia said she doesn't mark every page: "Only when I'm outside hanging out with my family and friends."
We admit, we were a bit cynical about this trend when we first spotted it. But it seems the hardcore Page X tweeters are doing something very personal. They're trying to spread a positive message. And they don't really care too much if their small messages don't go massively viral.
And how often does that happen on social media?
Blog by Mike Wendling
Other Trending stories you might enjoy:
'Never-ending' Twitter chain: mystery solved
You can follow BBC Trending on Twitter @BBCtrending. All our stories are at bbc.com/trending