Deadline day: The countdown in memes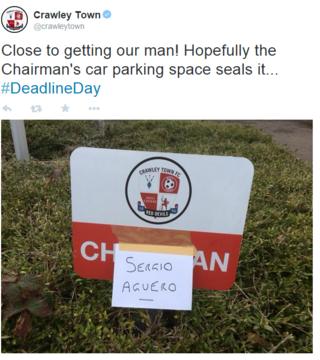 Around the UK football fans are gripped to their phones and computers as they wait for their club to sign a player before the 2300 GMT deadline.
#DeadlineDay - or Transfer Deadline Day - or January Transfer Window Deadline - has become a yearly spectacle on social media too.
Today alone there have been 86,000 tweets about #DeadlineDay and fans are using other transfer-related terms such as "#TransferDeadlineDay" and "Transfer Deadline".
And of course, not surprising, the jokes on the internet are providing some great material as fans wait for the latest season-changing signings.
More BBC Trending stories:
Sharks and Seahawks, Patriots and Perry: Who won the social media Super Bowl?
Who's giving thousands of dollars to gamers?
Watch more videos on our YouTube channel or follow BBC Trending on Twitter @BBCtrending.
All our stories are at bbc.com/trending