The millions who tweeted for Moaz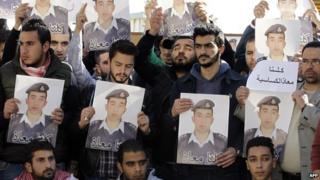 Before and after news of his apparent murder, there were at least 15 separate hashtags about the Jordanian pilot captured by Islamic State (IS). But what are people saying?
Two days ago on 2 February, the world had not yet learned about the death of Moaz al-Kasasbeh, the captive Jordanian pilot who has now apparently been violently killed by Islamic State. But solidarity for him was already going global on social media. The prominent Brazilian author Paulo Coelho asked on Twitter why people were not expressing support for the kidnapped pilot, in the same way that millions were showing support for the victims of the attack on Charlie Hebdo.
But support for Moaz (people online are using his first name)was already there, at least in Arabic. A hashtag that translates to "We Are All Moaz" has been used almost half a million times, mostly from Jordan, since the pilot was taken hostage by IS back in December. And throughout his time in captivity people tweeted to remind others about Moaz.
Then on Tuesday, after IS released a video allegedly showing Moaz (also spelled as Muath) burning alive in a cage, Arabic social media timelines were flooded with statements of rage and vengeance. Hashtags that translate to "Moaz the hero", "Moaz the martyr" and "the Jordanian response is coming" have accompanied messages of condolence and prayer to his family. Some Jordianians online vowed to retaliate for his death.
Outside the Arab world, social media statements varied between anger and a few trying to disassociate Islamic State's ideology and actions from the Islamic faith. The response in English mostly came under #IAmMuath, popularised by Paulo Coelho and now tweeted 58,000 times, and and #isis_are_not_muslims mentioned 65,000 times.
Now that Jordan has responded to Islamic State with two executions of its own, the focus of the conversation has shifted towards Sajida al-Rishawi, a female jihadist among those put to death. Jordan had previously agreed to swap Rishawi for Moaz and two other hostages. While a few Jordanians expressed happiness at her death, many say Jordan will now need to play a bigger role in the fight against the radical group.
Blog by Mai Noman
Next story: McDonalds Facebook campaign enrages Mexicans
You can follow BBC Trending on Twitter @BBCtrending.
All our stories are at bbc.com/trending