Mexican woman who claims ties to police chief scolded on Twitter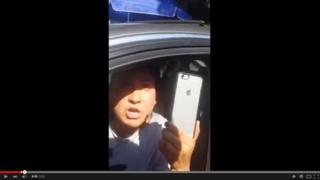 "Lady" can be a term of respect. But in Mexico, it's also a title given to badly behaved women.
The scenario might sound familiar to anyone who's tried to drive in a busy town. A woman whose car is double-parked in Mexico City is approached by an officer who asks her to move. But she won't budge. In a video that's been watched more than 700,000 times on several YouTube channels, the woman asks the officer for his ID badge and says: "I will go straight to Goliat [the regional police director] to show him how his people behave" - and she mentions she's a relative of the big boss.
The video sparked outrage on Twitter under the hashtag #LadyGoliat. "Watching this, how can we complain about police officers behaviour?" asked one user. Another wrote: "As citizens we deserve a better police force, but police officers deserve better citizens."
The incident was picked up by local media who published all sorts of unconfirmed information about the woman and her alleged links with Police Chief Goliat, until the police department itself stepped into the conversation, stating that "the person who appears on the "Lady Goliat" video has no links with the chief of police." The chief confirmed having been introduced to the woman during a residents' meeting but said they had no family ties.
But that doesn't mean that the officer is totally in the clear. According to the newspaper Milenio, he's under investigation for not properly handling the situation, as he didn't call for backup and his argument with the woman potentially damaged the police's reputation.
"Lady" is a common moniker given to women in Mexico who get caught up in scandalous behaviour on social media - such as #LadyChiles, who caught her housemaid stealing chillies from her cupboard, a story previously covered by BBC Trending.
Blog by Gabriela Torres
More blog posts:
Did this woman really call Islamic State fighters "donkeys"?
Jon Stewart and Brian Williams: they should just swap jobs
Follow BBC Trending on Twitter @BBCtrending. All our stories are at bbc.com/trending