The one about the Aborigine with a 'good personality'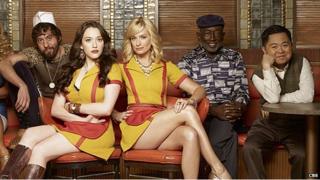 Are minority groups ever fair game for jokes in TV sitcoms? The writers of US show 2 Broke Girls took a dig at Aboriginal women this week, but not everyone found it funny.
"I'm in a casual flirtation with a woman in Australia. She's part Aboriginal but has a great personality," said actor Matthew Moy, who plays the character Han Lee on the show, which aired in Australia on Tuesday.
There has been a strong backlash ever since on Australian social media, including seemingly from Aboriginals. "Way to go 2 Broke Girls - how to denigrate the First Nations People of Australia - as if we didn't have enough from White fellas as it was," wrote one user on the programme's Facebook page. Another said: "disgustingly racist comment about Aboriginal women. Not at all effin funny". One unhappy viewer thought the line was deemed permissible because of the specific target of the joke. "If it had been said about an African American it would never have made it to screen," they wrote. Others commented in a similar vein on Twitter.
In fact, the show has a history of including close to the bone gags about a host of minority groups. One widely cited example: "Sophie is the loudest person we know. Even black people at the movies tell Sophie to be quiet," was offered up by Caroline, played by Beth Behrs, in an earlier episode of the show. And it's the depiction of Moy's character - Han Lee - that has drawn most criticism in the past, for representing a jumble of Asian-American clichés: his broken English is a constant source of mirth on the show.
According to reports, back in 2012 one of the creators of the show, Michael Patrick King, addressed the charge of racism head on. "People pull away from something if it's not in good taste. More and more people are leaning in to 2 Broke Girls," he said. "I feel no need to pull away from the brand of 2 Broke Girls which is 'in-your-face girls'. Neither he nor the CBS network have yet commented on the latest controversy.
The debate seems to be escalating in Australia. Today former Prime Minister Kevin Rudd described the latest joke as "pathetic". "How low can you go for canned laughter? Programme should apologise," he tweeted.
Next story: Be careful who you swear at on the train
You can follow BBC Trending on Twitter @BBCtrending.
All our stories are at bbc.com/trending