Indian 'bad girls' and Somali Instagrammers: #BBCtrending's weekly round-up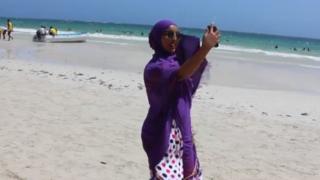 The team brings you the inside stories of some of the week's biggest social media trends.
On the BBC Trending blog:
10 Hours of Walking in Paris as a Jew
Meet the Turkish women sharing stories of sexual abuse on Twitter
How to be a 'bad girl' in India
If you're on your way to a job interview, be careful who you swear at on the train
2 Broke Girls, and the joke about the Aborigine with a 'good personality'
And the best Trending videos from the last seven days ...
What's your stereotype of the Somali capital Mogadishu? Whatever it is, chances are it's different from the view you get if you follow Ugaaso Abukar Boocow on Instagram. She has 42,000 followers, largely because of her irreverent take on Somali life.
Ghanaian celebrities have taken to social media to condemn the beating of a suspected gay man, opening a rare window for debate on homosexuality in a country where gay sex is illegal.
Watch more videos on our YouTube channel or follow BBC Trending on Twitter @BBCtrending. All our stories are at bbc.com/trending