#BBCTrending: Lego Oscars, #AskHerMore, Meryl Streep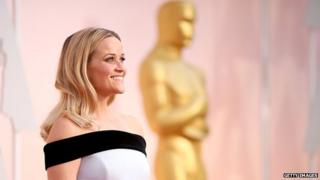 The 2015 Oscars clocked in at just about three hours and 49 minutes, and before, during and after the programme, viewers turned to social media to comment on the action. Below, some of the night's most talked about moments.
It's long been said that "a bad dress leads to years of bad press," and one of the most common questions that female nominees are asked by the Oscar press is "who are you wearing?" - a reference to the designer behind their red-carpet look.
Other questions regularly revolve around cosmetics, beauty, and dieting. Earlier this month, a Buzzfeed post showed how celebrities responded to questions like "how do you balance career and personal life" and "what are you looking for in a man?"
But many say that line of questioning is too shallow, and tonight they used the hashtag #AskHerMore to send suggested questions to red carpet reporters.
Rebecca Schinsky, Director of Content at BookRiot, tweets "My kingdom for a red carpet 'What are you reading?'"
The hashtag is the work of a campaign started last year by The Representation Project, a group devoted to ending gender stereotyping in film. Amy Poehler's Smart Girls, an online community founded by the comedian to encourage discussion among young women, has pushed the hashtag forward in the run up to this year's Oscars.
Reese Witherspoon, who has been nominated for Best Actress for her role in Wild, helped to elevate the trend when she posted a photo featuring a montage of several suggested questions on Instagram.
"This is a movement that says we are more than our dresses," she said on the red carpet.
Oprah's Lego Oscar
Oprah Winfrey had hoped to pick up an Oscar for the film Selma, which she produced. Ultimately, her film lost to Alejandro González Iñárritu's Birdman, but she got to go home with one of the night's most coveted prizes - a statuette made of Lego.
The toys were distributed during a performance of "Everything is Awesome" from The Lego Movie, which was nominated for best song.
A still of Ms Winfrey grasping her yellow brick Oscar, feigning surprise as if she had won the real thing, made the rounds online after the performance. "Lego Oscar" was trending in the US.
The man behind the Lego Oscars, however, was not faking anything when tweeted, "So honored that I was asked to make the #LEGO #Oscars, and this is the cherry on top."
Nathan Sawaya, an artist who works with the plastic toy bricks, has been tweeting his reaction and even included a video showing the little yellow statues' creation.
Emma Stone was pictured with a Lego Oscar when her name was announced as a Best Supporting Actress nominee for her role in Birdman (Or the Unexpected Virtue of Ignorance). She lost out to Patricia Arquette, who took home the award for her work as the mother in Boyhood.
Still, as comedian Shalyah Evans wrote, Stone "has a Lego Oscar, which I honestly would prefer."
Arquette wins, Streep reacts
"We have fought for everybody else's equal rights. It's our time to have wage equality - once and for all. And equal rights for women in the United States of America," said Arquette in her acceptance speech.
People across Twitter relished in actresses Meryl Streep and Jennifer Lopez's reaction to the comments - the first political statement of the night. Ms Streep jumped from her chair repeatedly shouting "Yes!" in agreement.
Jarrett Wieselman, a senior editor at Buzzfeed, comically tweeted, "Life goals: Say something that makes Meryl Streep and J.Lo react like this".
And News Corp journalist Andrew Losowsky captured a popular sentiment when he wrote "That Meryl Streep moment will now be the go-to 'approval GIF' for the next year. #officialtwitternotices."
Not to miss out on the fun, Ms Streep and Ms Lopez issued a selfie soon after. While it didn't supplant Ellen Degeneres' historical Twitter-crashing tweet from last year, it kept the conversation going long after Ms Arquette left the stage.
Reporting by Paul Blake.