Spaniards turn against domestic violence football chant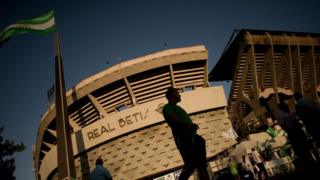 Tens of thousands of people have posted online messages of anger against Real Betis FC fans, because of a chant that seems to encourage domestic violence.
It was a humdrum game between Real Betis and Ponferradina, ending in a draw. But the fixture on 8 February was Real Betis' first after a district attorney decided to file charges against striker Ruben Castro for alleged domestic abuse.
The team has stood behind Castro, who has not admitted any guilt in the case. During the game, the following chant was heard from the stands: "Ruben Castro! Ruben Castro! It wasn't your fault. She is a prostitute, you did well".
The chant was captured in a YouTube video posted the next day and viewed over 40,000 times - though it has since been removed.
You might expect the next step to be action by the club, or by the Spanish Football Federation, which is on a mission to eradicate violence and intolerance at football matches. As BBC Trending has reported in the past, the federation currently has a "no tolerance" policy on violence, racism or discrimination.
But this time round, the club, federation and media remained mum on the issue. Two weeks later, after a second match with 'ultras' singing the same chant, it was social media that made it an issue. The term 'Betis' has been used over 30,000 times in the last couple of days on Twitter, with many furious about the incident.
A politician, Angeles Alvarez from the Socialist Party, also made a statement which was quoted by many online. "It is very sad to hear how Spain is talking about Betis thanks to a bunch of undesirables who damage the image of the club and its fans," tweeted journalist Alvaro Ladron.
Another user, Maria Jose, describes herself as a feminist and said the episode was "shameful".
Why did it take several weeks for these chants to become an issue? Professor Cecilia Castano, who teaches about gender equality at Complutense University of Madrid, told BBC Trending that despite several pieces of legislation to tackle domestic violence and discrimination, "Spanish society is not very clear about gender equality".
She said that in Spain, "football is the sport of gods" and a "stronghold of masculinity, where many men feel free to express their worst side". But this behaviour does not represent Spanish society as a whole.
"It shows the fight that we have at the moment between a deeply conservative society and another more equal vision," she said.
Both Real Betis FC, and groups representing the 'ultra' fans, have now apologised about the supporters' behaviour and promised to put measures in place to tackle it.
Today there has been a reaction to the criticism levelled at Betis with the hashtag #ElBetisSeRespeta (Respect the Betis) trending on Twitter. It's been driven by over 13,000 tweets from fans who want to make clear that the chants are not representative of the club. "This is not the real Betis," wrote user Francisco Arellano.
Blog by Gabriela Torres
Next story: US politician's Instagram feed under fire
Or maybe you'd like to watch: Why thousands are standing behind one Muslim lawyer
You can follow BBC Trending on Twitter @BBCtrending. All our stories are at bbc.com/trending