The politically loaded question that got India talking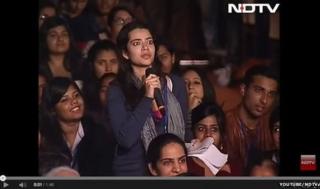 A female student from Delhi tells BBC Trending that the huge online reaction to a question she asked at a lecture was "deeply misogynistic".
It was a bold move. During a televised discussion, a young political science student stood up and directed a probing question to one of the world's most powerful women. Will growth in one of the world's fastest developing economies be inclusive, the student from Delhi University asked IMF chief Christine Lagarde, or would it be restricted to the "Hindu male population"?
In context, the question makes sense - after all, Lagarde had been talking about "unleashing the potential of women" using economic growth. But her use of the word "Hindu" for those who may benefit from growth was what caused an online reaction. It was a reference to the newish government led by the Hindu nationalist BJP party, and party supporters were among those quick to react. The hashtag #NDTVGirlAsks has been mentioned more than 20,000 times on Twitter (NDTV being the network broadcasting the discussion).
Several of the comments accused her of being anti-Hindu and anti-Indian. "This #NDTVGirlAsks should be officially branded as national embarrassment. This is exactly the kind of feminism prevalent on Twitter and TV," said one tweet. The vast majority of tweets under the tag were against the student, and the dispute became the latest talking point for India's increasingly divided online political culture, where liberals are constantly on the look out for Hindu nationalism and government supporters jump to the defence of what they claim are conservative Indian values. India's culture wars have even played out through children's comic strips - as BBC Trending reported previously.
The student, who asked to be identified only by her first name, Paroma, says she wasn't aware of the online chatter about her until a friend pointed it out. "These comments come from deep-seated ignorance and insecurity about the fact that someone is questioning the whole development paradigm on which the new government came to power," she told BBC Trending in an email. "I have read deeply misogynistic comments. Some said that my grey matter was washed out with my menstrual cycle. These comments go on to prove that these fears that I have ... are not misplaced."
Some of the memes being circulated were created by Rahul Raj, the man behind a satirical news Facebook page, Bhak Sala. "I genuinely felt that her question was very lame," he says, denying that he was part of an effort to systematically troll the student online. "I guess the politics contained in the question was what put off people, who decided to show how futile it was through memes."
Blog by Samiha Nettikkara
Next story from BBC Trending: Dolce and Gabbana say 'Boycott Elton John'
Or maybe you'd like to look at: Music videos without the, um, music
You can follow BBC Trending on Twitter @BBCtrending, and find us on Facebook. All our stories are at bbc.com/trending.