Election 2015: Health and leaders drive Facebook conversation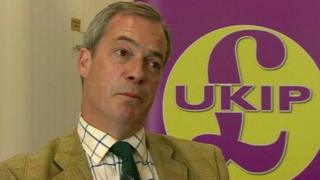 If Facebook likes were votes, the Conservatives would top the ballot, with UKIP nipping at their heels - and SNP and the Green Party would be far ahead of the Liberal Democrats.
Of course, popularity on social media does not always translate to wins at the ballot box - to take just one example, the Yes campaign dominated online during the Scottish independence referendum, but lost the actual vote.
On the other hand, the issues being talked about online are a good indication of what might drive the general election campaign. On Monday the UK's most popular social network, Facebook, released its pre-election analysis of political trends. The volume of traffic is huge - there have been more than 21m interactions (posts, comments and likes) about the election since the start of the year.
Health is the biggest topic of conversation, followed by the economy, tax and Europe and immigration. The national picture hides some big regional differences however. In Greater London, the economy was the top issue being discussed, while in Scotland the environment was the number one issue. There's one caveat though - Facebook didn't break down the categories further, so we don't know whether environmental discussions were driven by, for instance, the oil and gas industry, or by climate change or other issues.
Then there's chatter about leaders themselves. David Cameron and Nigel Farage were the two most discussed political leaders in the UK - even in Scotland, where UKIP finished fourth in last year's European elections (in contrast to the party's UK-wide victory). Again a warning: the figures weren't broken down by sentiment - so there's no telling how many people were chatting about the leaders positively or negatively.
"Politics was the most discussed topic on Facebook in the UK in 2014 and we expect this year to be no different," says Facebook politics and government specialist Elizabeth Linder. The general election has already generated twice as much activity as the Scottish referendum, which was the site's biggest topic of discussion in the UK last year.
As for those Facebook page likes, the Tories have 356,000 fans while UKIP has 340,000. Following some way behind are Labour (220,000), the SNP (184,000), the Green Party (156,000) and the Liberal Democrats (105,000) - perhaps not surprising considering the amount of money the Conservatives are spending on Facebook advertising. But in an election where nothing seems certain, it's probably a safe bet that those numbers won't bear much relation to the number of votes each party gets on 7 May.
Blog by Mike Wendling
Next story: Do Chinese tourists lack good manners?
Or maybe you'd like to watch: Christian Mercy for Islamic State
You can follow BBC Trending on Twitter @BBCtrending, and find us on Facebook. All our stories are at bbc.com/trending.